This is the menu planner I use in my home. Since I have Picky Little Eaters to contend with, the breakfast and lunch selections stay the same and I only fill in the snacks and dinners.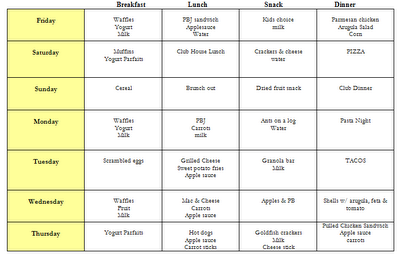 If you want to get fancy and uber organized you can create menus for 12-18 weeks and constantly rotate them. If you do this, then I suggest leaving 1 or 2 meals blank to fill in.
You may even choose to have set dinners on certain nights such as:
Pasta Night
Soup Night
Take-out Night
Mexican Night
Taco Night
Pizza Night
Breakfast for dinner night
Leftover night
Soup and Sandwich night

Download my weekly menu planner and customize for yourself!

Do you preplan your family's meals?