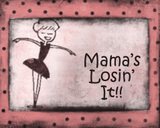 MamaKat has asked for some solicited "unsolicited parenting advice" as part of her writers workshop. I'm new at this writers workshop thing, but fortunately I'm not new at the unsolicited advice!
Dear Oblivious Mother,
Yes, I'm talking to you. The one who has her child running around the restaurant while she nurses a martini and talks on her cell phone. The one who thinks it's all too cute the way her sassy 3 year old rolls her eyes and tells everyone what she is and isn't going to do; Like wait her turn on the slide, give my child back her doll, or stop throwing food across the restaurant.
I know you think you have one adorable child who is going to be CEO one day.
I know you think that saying, "Stop it" 15,278 times during the course of dinner might actually cause your child to stop annoying the heck out of everyone in the restaurant. But I submit to you that you might want to try actually parenting some time.
I know, call me crazy, but I think that's what we are actually supposed to be doing. I know it's fun to have a baby shower and dress them up like dolls, but children are actually a responsibility and not an accessory.
Although I can easily see yours becoming an accessory in the legal sense. But I digress.
You see children don't come out of the womb knowing how to behave in a restaurant, on the playground, at a neighbors house or even at school. And the designer outfit your little brat is sporting doesn't make as big an impression on me as the fact that she is just plain rude, annoying, spoiled and a direct reflection on your complete failings as a parent.
There, I've said what everyone else has been thinking.
It's time you started thinking about what you are going to do now.
I suggest buying all the parenting books you can find on Amazon.com and actually reading them.
Sincerely,
Unfortunate soul who always gets seated next to you in a restaurant.
Thanks MamaKat, that was fun! Go here for more writers prompts.
What is your parenting pet peeve?