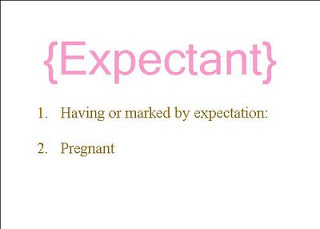 I was blessed to be able to carry our last four children.  As extraordinary as that is, I know it is not what makes you a mother or what makes you a parent. I've said that before.  But it doesn't change the fact that I've cherished that opportunity to experience what it is like to have a child growing within you.  In some ways I've felt what its like to have that child all to yourself for 9 months.
The early days of a  pregnancy is like a secret promise within, no one on the outside knows you are expecting unless you tell them.
In  later months a pregnancy is more visually obvious, but though someone can place their hand on your belly, they might not feel that precious kick or subtle flutter that says, "I'm here, Mama".  But the expecting mother feels every last one.
A woman on an adoption journey is not often recognized as expecting, yet she is expectant.
I am expectant of when I will get the infamous calls.
The first one to say that we are matched and another one to let us know our child has been born.
I am expectant of meeting our child's birth mother. I pray for her nightly and my heart aches for her in ways I never thought possible.  Who knew you could pray so fiercely for someone you don't know?
I am expectant of seeing God's plan for our family through this adoption.   From where I currently sit I can see nothing, and it is easy to give myself over to fear of the unknown, restlessness, and anxiety.
In a pregnancy you are given the date of when you can expect to cross the finish line.


Adoption feels like an unspecified race with no visible finish line.
Am I running a relay, sprint or marathon? It is really anyone's guess at this point.


But I am expectant.  Expectant of God's blessings and promises.
Are you?