I really love Amazon.com.  Big Daddy swears I am their best customer.  I doubt it, but I should probably qualify for some sort of discount coupon a few times a year.  One of the reasons I love Amazon.com is that I can often purchase out of print books in good condition. I'm picky about books—and I prefer not to loan them out so please don't ask me! 
But I've gotten off topic again.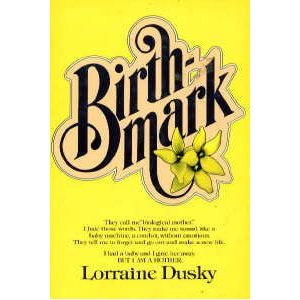 I wanted to tell you about Birthmark, an out-of-print book by author Lorraine Dusky.  I read it in a day.  With four children and a mountain of adoption paperwork, during blood tests and  physicals, I read it. I couldn't put it down. It was published in 1979 and chronicles the story of Lorraine Dusky's life before, during and after she placed her daughter for adoption in April 1966.
' They call me "biological mother."  I hate those words.  They make me sound like a baby machine, a conduit, without emotions.  They tell me to forget and go out and make a new life.  I had a baby and I gave her away.  BUT I AM A MOTHER.' From Birthmark
Yes, adoption laws have changed and thankfully women who choose to place their children for adoption are given more information and opportunity than Lorraine was.  She wasn't able to see or hold her daughter (born prematurely). She didn't meet or select the couple who would raise her daughter and she was never offered an opportunity to have a semi or open adoption plan.
The book chronicles the pain she endured after placing her daughter for adoption and the reason she has become an advocate for adopted children getting access to their original birth certificate and closed adoption file.  As a potential adoptive mother and mother of 4 (biological) children it was a heartbreaking read.  But while I obviously don't take the stance that Lorraine Dusky does (she seems entirely anti adoption) I feel I can understand how she arrives at that point of view and I hurt for the women who have not had an opportunity to at least know what happened to the children they placed for adoption.
Recently, Ms. Dusky was in the news again (NY Times) :
"In 1981, when her biological daughter turned 15, Ms. Dusky managed to establish contact. The two became close, and also had fallings out. During one such gap in their relationship, the daughter, Jane Pertzborn, then 20, had an unintended pregnancy. Her baby, too, was adopted." (Excerpt: Adoption, Reunion, Connection)
Interestingly enough Ms. Pertzborn had no interest in ever meeting the biracial daughter she placed for adoption.  She also committed suicide leaving Ms. Dusky to try to pick up the pieces with her grand daughter who, after initially rejecting an offer of meeting, has begun to have a relationship with Ms. Dusky.
I think this book is a must-read for anyone considering adoption. It opens your heart to the possibilities and importance of having an open or semi-open adoption; and it even takes away some of the fear of having the child you adopt meet the woman who gave birth to him/her.
"I hope your parents don't think I am some kind of pariah come back to haunt them, or hurt them.  I hope they understand I don't want to hurt you.  That's the last thing I'd ever want.  I don't imagine that if I found you, your life with them would change that much; you just can't walk out on what I hope has been a lifetime of love.  But I could tell you what happened. I could ask you to forgive me.


Yes, I'd like to have you visit me.  You could call me Lorraine, it would be fine.  I'd just like to see you.  Even if I couldn't talk to you."
Birthmark by Lorraine Dusky page 190
The part that Ms. Dusky does not talk about, but that I know from several of my friends who have adopted, is this: Sometimes the birth mothers (first mothers, biological mothers) just disappear or stop contact on their own.  I'm not sure if it is because the contact itself is more painful, or if having contact has allowed them to heal and find peace in their decision. But it does happen and there is a new generation of women who have placed their child for adoption who say they believe they did the right thing.  Women who obviously felt they would have chosen abortion if adoption wasn't an option.  Ms. Dusky herself had tried to get an abortion in Puerto Rico but was turned down because she was so far along in her pregnancy.  Do you think Ms. Dusky knows that whatever she felt while looking for her daughter would have been a million times worse had she aborted her?
Adoption can be a beautiful thing.  But it is obviously born out of pain. Adopting a child is often first born out of pain too. The majority of couples who grow their family through adoption are unable to have a child of their own.  They cannot just chose to start their family when they want but must instead wait for a birth mother to pick them…or until they can save up $25,000-$60,000 (typical agency adoption).
As I think about the moment I will meet our child's birth parent I get tears in my eyes. I hurt for her already and yet I'm so grateful.  I'm so grateful we are going to have an opportunity to raise, nurture and love this child. I am so grateful that if our child ever wants to know something about her I'll be able to provide that information and maybe even facilitate a meeting.  That was something I was afraid of before.  Because I worried about me.  About me losing "my place" in our child's life and "my title" of Mom. I worried that even though I know I can love a child to whom I have no biological ties, I worried that this child wouldn't be able to love me if they met the woman with whom they do have biological ties.
I don't know how anyone can go through life without having faith in God.
I believe God has a plan for our family through this adoption. I believe His plan as stated in Jeremiah 29:11 will not harm me. I believe His plan can bring hope and a future to everyone who will be involved in our adoption.
I have faith and I'm praying for peace.