Why jars are your laundry room's best friend
Putting your washing soap or laundry booster in a pretty jar doesn't just make your laundry room more attractive, it helps keep your detergent fresher and easier to access.  Especially if you live in humid climates, like Florida where your brand new box of Borax can easily be reduced to rocky clumps in 24 hours.  I skip the fancy tags in favor of  a  label maker.  However you can buy chalkboard labels for a more Pinterest-y look.

Must have Laundry Soap, Stain Removers & Cleaning Aids
I cannot live without: Borax, Washing Soda, Whitening powder,  Oxy clean, Totally Toddler , Woolite and Fels Naptha Soap.
Borax is my laundry booster of choice for bedding and towels.
Washing Soda is especially great on grease.  We use also use it on cleaning cloths/rags and mop pads.
Oxy Clean is my favorite stain soaker. You can add it to your washing machine but if you have a front load washer make sure you put it inside the machine (with your washables) and not in the detergent tray. It says this on the directions, but most people don't read directions.  You're welcome.
Whitening powder does just what it says. I throw it in with the whites and for exceptionally grungy, formerly white socks, I like to soak it before washing.
Our regular washing detergent is Ecos, available at Costco.  It's a green detergent and works well with our front load washers.
The three best stain removers in my opinion are Totally Toddler , Clean Team's Red Juice and Fels Naptha soap.  Fels Naptha soap even got ballpoint pen out of a dress! It's 'old school' and terrific.
Know your Laundry Symbols
Care instructions on clothing often include just the Fabric Care Symbols, so it's important to know what they mean so that you can properly care for your clothing and linens.  I handle this by simply printing out a couple care instruction sheets, laminating them and posting them in the laundry room. No need to try to memorize them, just print it and post it by your washing machine.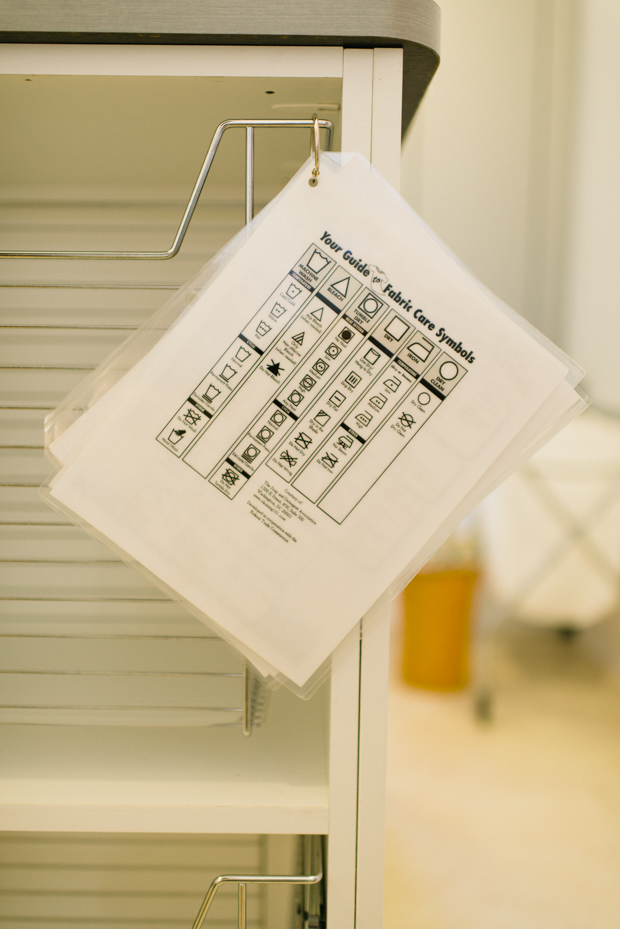 Sprinkling Laundry
I have to admit that I've never heard of sprinkling laundry until I started researching laundry care and ironing tips.  The sprinkle bottle is used to dampen fabrics before you roll them up in a tight ball and place in a plastic bag or pillow case (15 minutes to a few hours) before ironing.  This technique is especially useful when ironing cottons and linens.  Many dryers (including mine) have a settings to leave clothing or sheets "slightly damp"  but let's face it. The dryer and I rarely are on the same schedule. I love the idea of using a laundry sprinkle bottle and it's gorgeous so it almost makes ironing seem fun!
Pressing Cloths
Pressing cloths are another thing I never knew existed but I've fully embraced their usefulness.  Pressing cloths protect your clothing while ironing from scorch and water marks, shine, and pressing marks.  It also enhances your pressing techniques.  You can learn more about the various types of pressing cloths here.  Who knew there were so many options?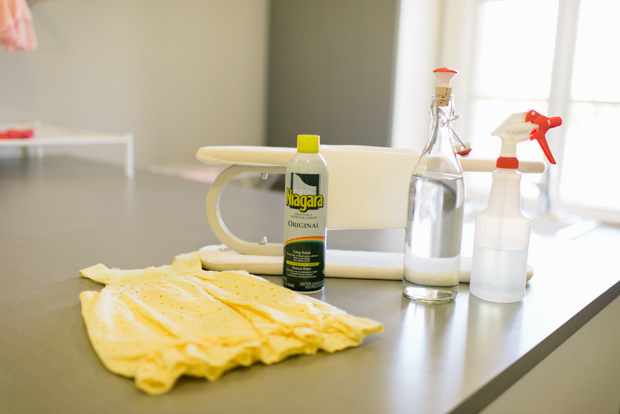 Laundry Room Equipment:
Although it's a luxury, if you can fit the Miele Rotary Iron  and appreciate ironed sheets (a true luxury) or cloth napkins, then I have to tell you this iron is the greatest thing since sliced bread.  No one I know has been able to master ironing clothing on it, however it is made for ironing clothing as well.
My favorite irons are the Rowenta Promaster Iron, which is an excellent basic iron and the Rowenta Pro Steam Station which is definitely an investment but worth every dollar.  It must be stated that ironing is not my favorite domestic chore and let's just say I won't personally be teaching a Home Economics class on ironing anytime soon.  That said, every Laundress we've ever used prefers the Rowenta irons as well and when I use the Rowenta Pro Steam Station I'm always impressed with the results, even with me doing the ironing.
While my ironing skills may be questionable, my steaming skills are on par with most Professional Wardrobe Stylists. It was actually a Wardrobe Stylist (and friend) who first told me at the Jiffy Steamer.  Ours is 14 years old and going strong.  We have the Jiffy Personal J-2 Series and have been quite happy with it.
Don't forget to clean your iron! Martha Stewart has a great video on how to clean an iron.  It's really easy and makes a huge difference.
Resources:
Brabantia Deluxe Wide Top Ironing Board
Rolling sectioned laundry cart
Italian Glass Swing Top Bottle
1 Gallon Glass Penny Candy Jar