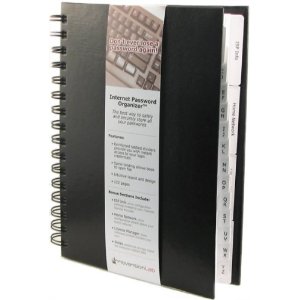 Do you have a log book where you store your important computer information including user names/passwords for websites that you use?  Having one can help you remember all those sites you join, as well as be able to access them.
In preparation of our upcoming move (again) I am busy getting myself organized as I pack.  One of my latest purchases was the log book shown above. However, I've noticed that the company is out of business so finding a well priced book may not be as easy as it once was.
With that being said I have made the following pages for you so that you can download them and put them into a binder for your personal use.  You are welcome to share this information with friends or on your own blog as long as you link to this original post.   
Be sure to scroll through all 5 pages to see all of the different forms I made for you!