Pumpkin started reading this school year, but for some reason, if she isn't reading one of her "early reader" books, she seems to automatically assume she cannot read it.  I want to encourage her but I also know that I cannot pressure her either. I want her to have a love of reading after all.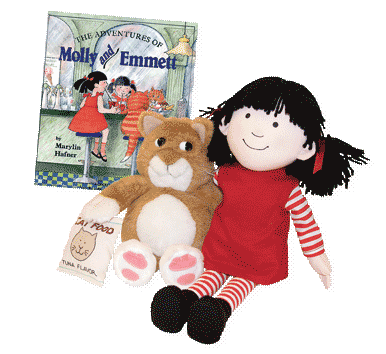 The adventures of Molly and Emmett by Marylin Hafner seemed like a good place to start.  Especially since there was a Molly and Emmett toy to go along with the book, which believe me, I used to scoff at the way books were marketed to children with a toy.  However, I've since changed my mind. I'd much rather have my child collect literary characters than cartoon characters, wouldn't you?  It absolutely makes sense that a child who loves books or a particular book, would want a plush toy/doll of their favorite character.
The adventures of Molly and Emmett is presented  as a collection of comic book strip style stories, ranging from 1-2 pages.
Because of this, it isn't really a Read-aloud, so much as a book to encourage independent reading.  This was exactly what Pumpkin needed to gain confidence.
Disclaimer:A complimentary review copy of the book and toys were provided by the publisher. As always, the review itself and my opinions are my own. I do not publish reviews on products I either do not like or believe are of value to my readers and other parents.