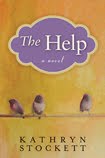 The Help
has got to be one of the best books I've read in a long time.
It is one of those books that once you pick it up, you cannot put it down.
It is one of those books that makes you sad when you finish.
I'm half tempted to pick it back up and start all over.
But that would mean the kids missing school,
again
.
Yes, I called off school one day so I could sit on the patio and read—all 464 pages.
I am calling it Mom's mental health day.
Seriously
If you've read the book and cannot get enough of it.
Check out Kathryn Stockett's website for an extra serving.
Here's to Abileen, Mini and Skeeter. I miss you already.