Have you ever bawled your way through a book?
Had giant tears dropping from your face and splashing across the page so furiously that between the tear soaked print and your teary-eyed vision you had to strain to read the next word?
And yet, you couldn't stop?
Have you ever been so consumed by a book that nothing else matters but the words on the page and you don't care how you look wiping away your tears as you eagerly devour each word?
And then you realize it, you've come to the end. And that in itself is reason to cry all over again.
So you stare at the last few words.
Read the last few pages.
Wipe your tears and contemplate reading it all over again.
Tears, heartache and headache be damned.
Because, even if you don't read it again,
you know each word by heart;
Because it's etched there.
I've read that book.
Its called, Same kind of different as me.
It is eye-opening, inspiring,heartbreaking, sad, and life changing.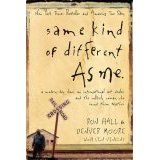 It is the true story of a homeless man, a wealthy art dealer, and the amazing woman who brought them together, truly changed the world and has left a legacy that continues to touch and change the lives of many.
Including me.
Read it and see for yourself.