I often get asked about my favorite beauty products, so I've decided to start sharing my  favorite new finds or long time favorites with you each month.
A Healthy Deodorant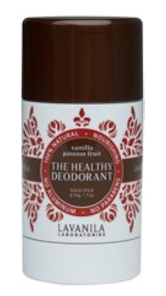 This month I was really excited to try Lavanila Laboratories Vanilla Passion Fruit Healthy Deodorant ($18). I am always on the search for a natural deodorant that can keep me feeling cool and confident.  What I like about Lavanila's deodorants is that they contain no aluminum, petrochemicals, phthalates, Propylene glycol, mineral oils, silicone, synthetic dyes, sulfates, or parabens.   However, the true test of any deodorant is whether it works.  If you've ever tried to move to an all natural healthier alternative you've probably encountered a few deodorant failures of your own.  It's not pretty. 
Although a touch up of deodorant was required on my more active days, one application did carry me through on less active days. I think I've finally found my healthy deodorant—and it works!
A Fragrance with Natural Aphrodisiacs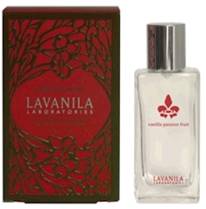 Also from Lavanila Laboratories is the  Vanilla Passion Fruit fragrance ($58) with Natural Anti-oxidants.  According to the box, "This love-attracting fragrance is infused with a romantic blend of natural aphrodisiacs"  which makes it the perfect fragrance to try for Valentine's Day!
I don't usually switch up my fragrances too often.  I'm more a  fan of the  'signature fragrance'  (the one you are known for always wearing) but I did find myself switching it up this month with the Vanilla Passion Fruit fragrance.  I have to admit it was fun to try something new and it did get the Road Warrior's attention.
An end to dry legs!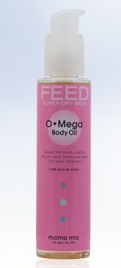 No one likes to have dry lizard legs, especially if you live in Florida where shorts are worn year round.  For most of my life I've used body lotion to try to combat my dry skin.   The O Mega body Oil from Mama Mio is applied to slightly damp skin, right out of the shower!  It's a healthier alternative to lotions because it contains no carriers or emollients.
The body oil contains:
Sweet almond oil (full of Omega 3, 6, 9) which is highly moisturizing and absorbs quickly without a greasy residue.
Jojoba Seed oil (closest to your skin's own sebum) is rich in Omega 3 and is helpful for healing and maintaining a healthy appearance.
Argan oil (one of the rarest oils in the world) helps to nourish, moisturize and improve skin's elasticity.
Safflower Seed Oil rich in Omega 6) is super-moisturizing and also helps to improve skin elasticity and strength.
Vitamin E is a natural healer and excellent antioxidant.
I love that I can use this in place of body lotion.  After using the O Mega Body oil ($35) my skin doesn't seem to dry out as quickly as before and my skin looks and feels amazing.   Don't be afraid of the word OIL—it's really not greasy.
A way to extend that blow-dry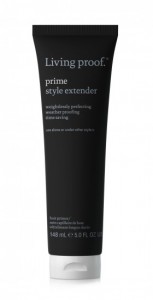 I've been a subscriber to GLOSSYBOX
  for three months now.  Although I've liked many of the products I've received,  the Living Proof Prime Style Extender ($20) is by far my favorite new find.
It generally takes me an hour and a half to blow dry my hair so anything that will extend my time in-between blow dries gets my attention.  Not only did the Prime Style Extender help my hair last longer between blow dries, but it looked and felt great too!
I truly think every girl needs to have this in her bathroom! As any hair stylist will tell you,the longer you can go between washes, the better that is for your hair…
Have you tried any of the products I've written about this month?  I'd love to hear about your experience in the comments.