This post is part of my Entertaining Series.  On Thursdays I either write about decorating or entertaining, two of my passions.  If they are yours too you may want to come back each Thursday, or consider subscribing to my blog so that you don't miss a single post. I also post additional pictures and ideas on the Trophy Mom Facebook Page.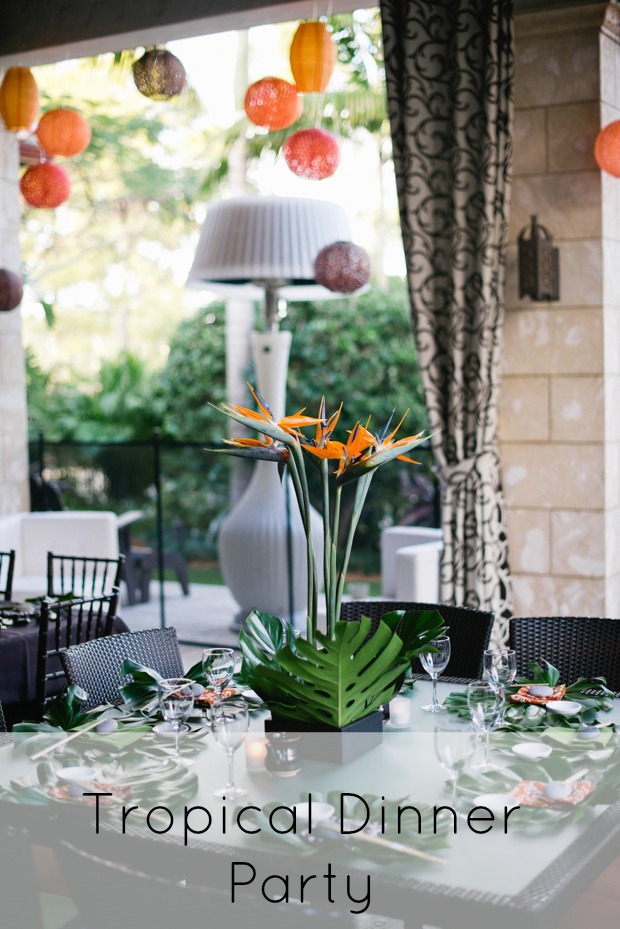 Although I've been a Corporate Wife for 13 years, we haven't hosted many corporate events at our home.  This year we decided to change that when we opened our home to the Road Warrior's Board of Directors for a special dinner at our home.
To make it even more fun (read stressful) we did this two nights before we left for the BVI's for a family wedding I was also planning and organizing.
Theme: Tropical Dinner Party
There are many great things to love about living in South Florida.
Warm weather in February is one of them.
So, with guests flying in from all over the country, it was pretty much a no-brainer to host an outdoor dinner party by the pool.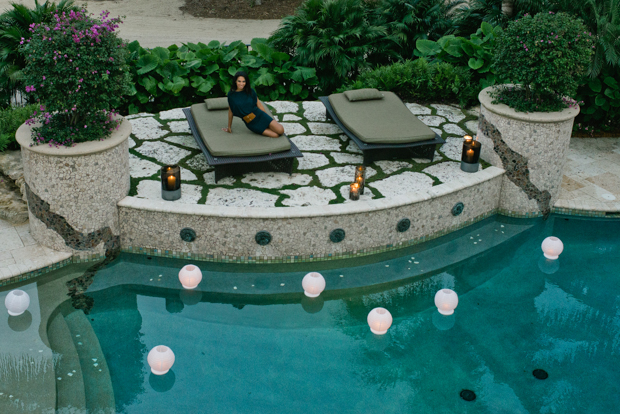 Lighting really sets the mood and this rule applies to outdoor entertaining as well.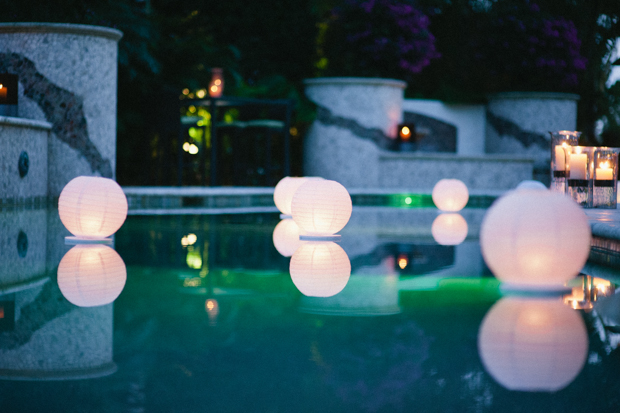 Paper Lanterns are hot in event decorating right now and you can even get them on Styrofoam bases with candles to float in a pool.
A fishing line with pebble keeps them anchored in the general area you're shooting for and stops them from gathering together in a tight bunch at one corner of the pool.
If you have kids they'll be BEGGING you to let them help set up for the party!  I had no shortage of young volunteers for the set up or clean up!
Table Settings:
Our regular outdoor patio furniture consists of 2 large square tables (seating 8 per table).
The dinner party consisted of 25 guests so I rented a rectangular table to seat 10 and placed it in the middle and it worked perfectly.
Don't worry about all the tables and chairs matching.
Use what you have and rent what you're short on.  As long as you tie it all in together with coordinating elements it will look fine.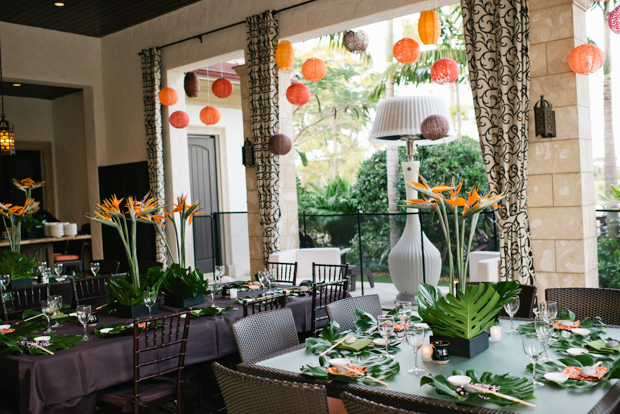 I used Tropical Leaves as placemats on the table along with an assortment of 4 different sets of cloth napkins (in coordinating colors/patterns) from our personal collection.
The dinner was catered by Nobu (Japanese Cuisine) so I incorporated engraved pebbles to hold the chopsticks (Nobu signature table styling) and serve as seating cards.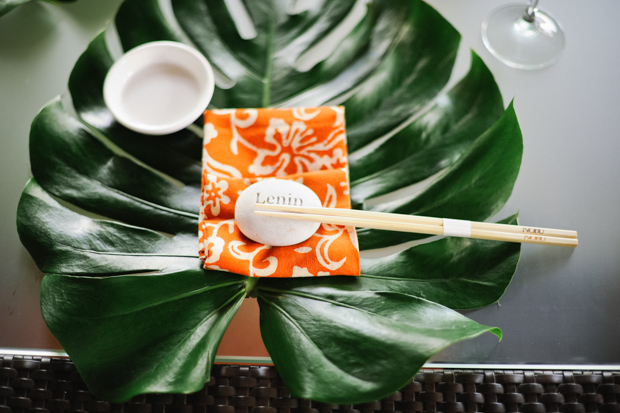 The engraved pebbles also became a take home favor for the guests.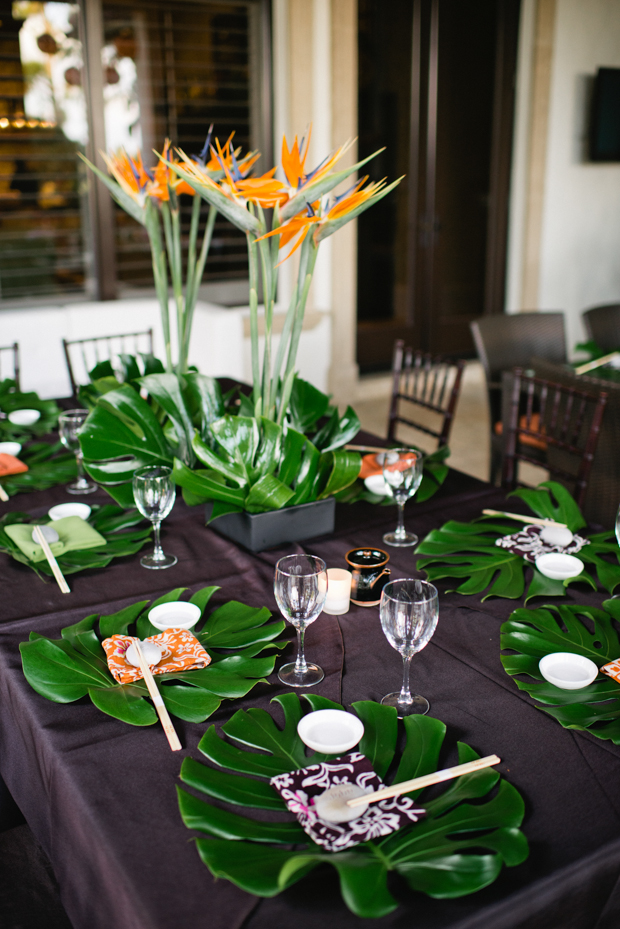 The centerpiece utilized Bird of Paradise, probably the most recognizable (and beautiful) of all Tropical plants.  Added to the base of the arrangement was a  mixture of succulents and additional tropical leaves.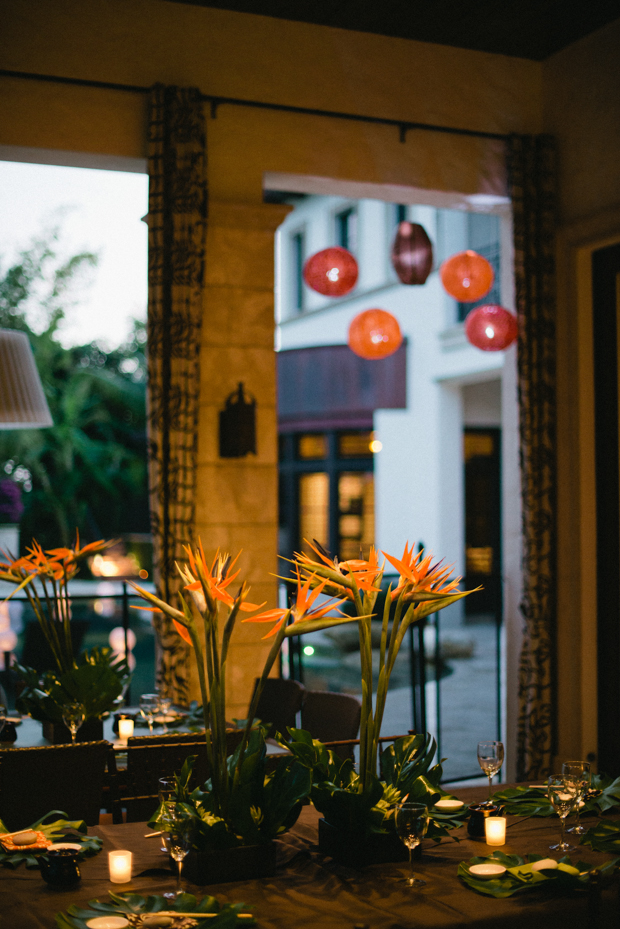 A variety of lanterns were hung around the perimeter of the patio.  They light up using battery powered lights so no electrical cords are needed.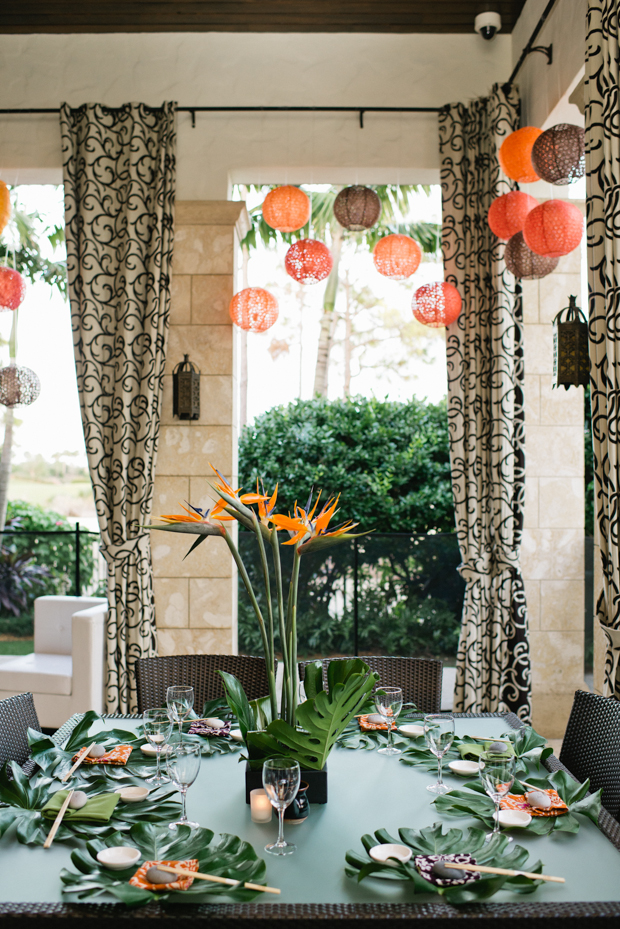 Cocktails:
Don't forget the Cocktails.   Although we offered wine for dinner, I firmly believe in having a few signature cocktails to offer butler style at every party. Even if you decide to have a full bar, it's nice to have a signature drink to offer guests.  Rarely will a guest turn it down and it's fun to try something new, isn't it?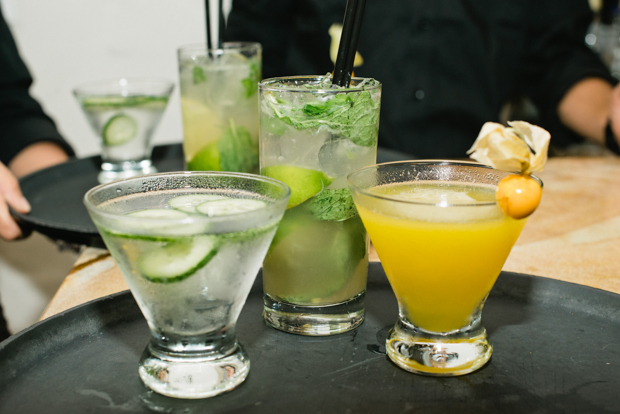 We served: Mango Martini, Classic Mojito and Cucumber Martini
Resources:

Floral Arrangements: Green Options Miami

Engraved Stones: SJ Engraving

Floating Lanterns: Globus de Luz

Catering: Nobu Miami

Hanging Paper Lanterns: Luna Bazaar