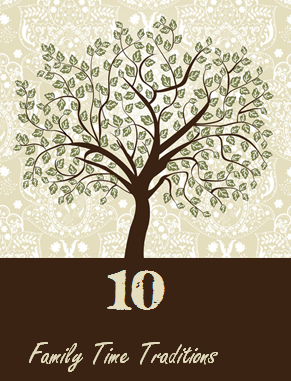 10 Family Time Traditions is a 10-day series that will give you ideas and encouragement for creating Intentional Family Time Traditions with your children. During the 10-day series we will explore a variety of ways that you can carve out intentional moments that will  help strengthen your family and build relationships among family members.
The importance of Family Time Traditions
Day One: The Importance of Family Time Traditions

Day Two: Creating Intentional Family Meal Times

Day Three: 4 ways to let your children know they are valued

Day Four: Holiday Traditions

Day Five: Creating your own Family Traditions

Day Six: Family Game Night

Day Seven: Celebrating your faith as a Family

Day Eight: Creating a Family Legacy

Day Nine: Volunteering as a Family

Day Ten: Preserving & Sharing your Family History
We live in a fast paced world where everyone is connected through technology. Look around at any restaurant and you will see people forgoing time with the person in front of them to check in on someone else via text, email, Twitter or Facebook.   Statistics say that families are spending less time together than they did in previous generations. More time is spent with computers, video games or television than with other family members. While technology advances our families are getting left behind.
Strong family relationships provide children with a nurturing and safe environment in which to grow and develop. It's also a key hallmark in good health.  Of course everyone desires a strong, close family.  Yet this doesn't happen haphazardly.  Strong families are built intentionally.  This  requires work, discipline, compromise and a willingness to say no to outside activities,  people  and things who rob you of your time together as a family.  Prioritize your Priorities.  Reclaim your family or build a stronger one through intentional activities together.
3 Questions to ask yourself before beginning this series:
What does being a family mean to you?
What are your goals for your family?
What traditions or values do you hope to pass on to your children and grandchildren?
This post is part of a series on iHomeschool Network. I hope you will share your own thoughts and ideas in the comments.