During my recent Mommy Vacation in California I had an opportunity to go to Villa Blanca restaurant in Beverly Hills.  One day I went for lunch with my girlfriends and another night I went for dinner with three other friends.  Each time I went, I brought friends who had never been there before.  Aren't I good for business?
 
I'm joking…
The restaurant is beautiful.  Just beautiful and both times we had wonderful waiters and great service which is both refreshing and surprising at the new hot place to dine.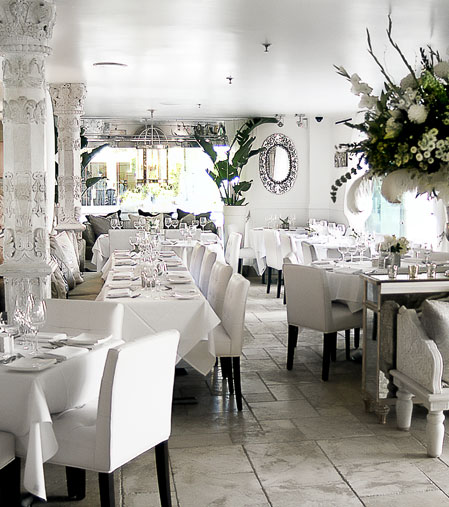 The food presentation was absolutely lovely for lunch.  For dinner it was so dark I couldn't see a thing in front of me, but that was no matter because most of the cast of the Real Housewives of Beverly Hills showed up!  It was a people watching extravaganza, to say the least.
A few of my friends knew some members of the cast so I had an opportunity to briefly meet:
Kyle Richards who is just gorgeous, super friendly and down to earth—-she really is a girls girl!
Camille Grammar who is not the villan she is portrayed to be on TV and prettier in person
Faye Resnick, who I found to be amazingly kind, complimentary and gracious
 Lisa VanderPump-Todd who is BEAUTIFUL—I have no idea how it is possible for her to be more beautiful in person.  I am told she is the kindest person, which is exactly how she comes across on TV.  She was very gracious about taking pictures with whoever asked and via Twitter she even shared her favorite manicure spot with me.  In person, she was a little cooler than I expected, but one could never call her rude. I suspect she is always a lady.
Lisa's husband Ken Todd was quiet and I'm told he is a guy's guy.  Since I am a girl's girl, I appreciate this.
Giggy was so cute and of course fashionable and yes…bald.  You gotta love Giggy.  He has the best gig as a dog, don't you think?


Also there was: Kathy Hilton, Adrienne Maloof and her husband Paul, Mauricio (Kyle's husband) and Dee Dee (Camille's makeup artist and friend).  


If you are in Beverly Hills I highly recommend going  for lunch.  On the night we went we had to wait almost 45 minutes for our 7:30PM dinner reservation (which I wasn't thrilled about), but in all fairness it was Oscar weekend and it was a fun night.