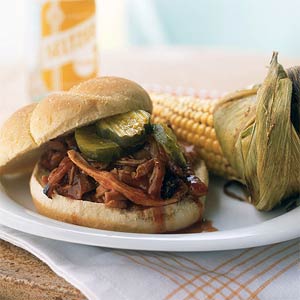 I promised Big Daddy I would get back into the swing of things with cooking dinner. Real dinners, not "kiddie dinners" while the adults fend for themselves with whatever is hanging around the fridge. Even if it means the kids won't eat it. Even if it means they will whine, and complain, and groan, and send me into fits at dinner time. Even if Big Daddy is in Hawaii and I am…NOT in Hawaii.
Pulled Chicken Sandwiches
Chicken:
2 Tablespoons dark brown sugar
1 teaspoon paprika
1 teaspoon chili powder
3/4 teaspoon ground cumin
1/2 teaspoon ground chipotle chile pepper
1/2 teaspoon salt
1/4 teaspoon ground ginger
2 pounds skinless, boneless chicken thighs
Cooking Spray
Sauce:
2 teaspoons olive oil
1/2 cup finely chopped onion
2 tablespoons dark brown sugar
1 teaspoon chili powder
1/2 teaspoon garlic powder
1/2 teaspoon dry mustard
1/4 teaspoon ground allspice
1/8 teaspoon ground red pepper
1 cup ketchup
2 tablespoons cider vinegar
1 tablespoon molasses
Don't forget sandwich rolls and sides!
Prepare grill
To prepare chicken, combine the first 7 ingredients in a small bowl to create a rub. Rub the spice mixture evenly over chicken.
Place chicken on a coated grill rack
Grill for approx 20 minutes, turning occasionally.
(we like it crispy on the grill)

Shred with 2 forks
(hands are easier but messy)


To prepare the sauce, heat canola oil in a medium saucepan over medium heat. Add onion; cook 5 minutes or until tender. Stir in sugar and next 5 ingredients (through pepper); cook just to dissolve. Stir in ketchup, vinegar, and molasses; bring to a boil. Reduce heat and simmer 10 minutes until slightly thickened.

Stir in chicken until heated through.
4 servings.
Double sauce recipe if you like a lot of sauce.
The first time I made this, my kids gobbled it up! The 2nd, 3rd and 4th time. They refused to eat it. Oh well, it still tastes good.