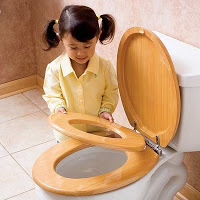 I thought I'd give an update on my Potty Training Adventures with our three and a half year old daughter. If you are new to reading my blog you'll want to start at the beginning of the story.
It has been almost four months since I originally shared my sad tale of potty training woe. During that time I have vacillated between declaring,
"You cannot force potty training upon a child. She will do it when she is ready and I'm just going to accept that. It's perfectly normal for some children to be five before they are potty trained."
to begging and bribing,
"Honey, Don't you think you are ready to be a big girl? What toy would you like most in the world? Mommy will buy you that if you start wearing big girl underwear."
And sadly I even broke down and sobbed,
"Santa will not bring you any presents if you are in still in pull ups so you HAVE TO STOP WEARING THEM RIGHT NOW!"
During this time I also bought the highly recommended potty watch. It was broken within hours of giving it to darling daughter. I have no idea what happened. I just know I'm not replacing that thing.
But all is not lost. After purchasing THREE Barbie's for pooping on the potty, my daughter now poops on the potty regularly. It is fantastic. She is so proud she saves it in the potty so we can all see, and I'm fine with that.
Unfortunately, she still wears a pull up and she still pees in her pull up the majority of the time. But all is not lost because she then changes her own diaper (pull up). So while I have not been able to fully potty train my daughter, I have been able to get her to change her own diaper. Now that she is pooping on the potty exclusively this is a much cleaner streamlined experience.
We're currently working on her changing her nine month old sister's diaper.
Hey, if you cannot beat 'em, join 'em.