It is said that the fourth child isn't photographed much.
Actually, they say that about the 2nd child…so imagine what it's like for the 4th?
I
swore
that would never be me.
It is.
I'm so ashamed of myself.
So today, I celebrate
Cutie Pie
.
.
Humor me.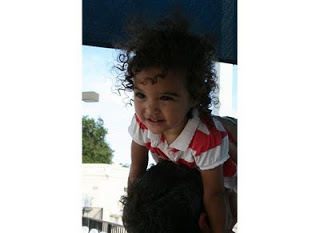 At 17 months she is still a joy.
Always smiling. Always happy.
Completely bilingual,
even if she only speaks Spanish to Daddy
(who doesn't speak a word of it).
Her favorite food is Yogurt.
Or
"go-gurt" as she calls it.


She loves leche (milk).
Which is fitting since she is crazy about cows.
She adores her big sister
and calling for her by name.
Screams, "Hi!" whenever anyone walks into the house.
Her first words were: Tortuga and gecko.
Honestly
She loves to sing.
She loves watering the plants outside.
Hates swimming lessons but loves the pool.
Just don't try to get in without her.
Trust me.

We love her.
Even if we don't photograph her nearly enough.
We're working on that…
Thanks for celebrating our 4th blessing with us.
She is just as loved as our first three.
I swear.