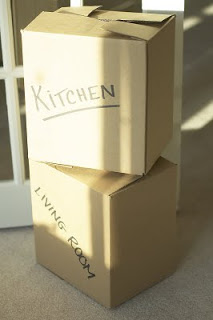 I don't do well with limbo.
I am one of those people that would rather hear NO, than maybe.
Maybe drives me crazy.
At least I know where I stand with No.
And here we are in moving limbo.
Our construction project is five months behind.
Yes, it will be wonderful when we finally move.
But when will that be?
Our date has changed at least 5 times.
Monday's movers have once again been rescheduled.
No one can even tell me how much longer we will need to wait.
We've been hearing "3 more weeks" for the past 2 months!
I know there is a lesson here.
I know that when we finally do move in,
it will be a huge blessing and joy.
But for now I cannot help feeling bitter, disappointed and frustrated.
There are so many things I like about moving.
I like the idea of a fresh start.
I like decorating.
I like nesting and creating a home.
I like organizing.
I like getting rid of the things we no longer use, need or like.
I like the adventure of experiencing something new.
I like executing my well ordered plan and reaping the benefits of it.
Do you see the problem?
I don't know when to pack!
I don't know how to orchestrate my well ordered plan!
And perhaps that is my lesson.
Trust in the LORD with all your heart
and lean not on your own understanding;
in all your ways acknowledge him,
and he will make your paths straight.
Proverbs 3:5-6 NIV
Moments in life cannot always be well orchestrated or planned.
And yet, there can still be a blessing within the chaos.
I know we will eventually move into our new home.
I know that one day I will forget the frustrations I am feeling now.
I am praying that I can show my children patience and flexibility in my actions.
I am being stretched out of my comfort zone.
I am being tested.
I am being taught to rely less on myself and man and more on Him.
Perhaps that is the greatest blessing and lesson of all?
How do you handle these moments in your life?