After another week of limbo and obstacles I decided I wanted to run away from it all—–with my children. I was absolutely desperate to literally get away from it all and just focus on what matters to me the most—my kids.
At the exact moment I felt the urge to runaway, I remembered my family was going on a mini vacation to the Keys and had invited us to join them. We originally said no, because we thought we were moving into our new home on Monday—ha!
In a truly last minute decision I packed up four kids, made reservations and hit the road late Saturday afternoon. Four hours later we arrived at Hawks Cay. We reserved their Marina Villa which I was assured was the premiere choice for a family with many little ones. Sounded great to me!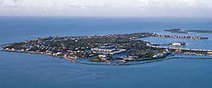 I arrived to a somewhat busy front entrance yet all the valets ignored me. Finally, I was able to grab the attention of a valet who said I could leave my car our front while I checked in (I knew our room wasn't in the main building). I unloaded the four kids and we went inside to check-in. And by we, I mean the four kids and me. Road Warrior hubby was on a red eye.
Around this time I ran into my Aunt and cousins in the lobby and they accompanied me back to my room. Good thing as there was no bell service or assistance offered to the villas (my first clue) and I would have never been able to unload the luggage and get it up to our room on the third with 3 kids and an exhausted and hungry toddler.
Since Cutie Pie normally goes to bed at 7pm and just endured a four hour car drive, it was understandable that she was tired, hungry and ready for bed. So was I!
It was 7:45P by the time we made it to our room. I attempted to get PBJ and milk from room service. First I was told no problem it would be 20 minutes, then I was called 1 hour later and was abruptly told to come pick up my food at the front desk (which is a drive from where I was). Apparently they don't offer room service to the Marina Villas—you know, their premier accommodations! And apparently they don't think this is something they should share with you when you are reserving a Marine Villa. After much arguing, complaining and threatening to immediately check out and drive 4 hours back home, they grudgingly sent someone with the food. But I was done. I told the manager our 3 night stay would now be 1 night and demanded some sort of compensation for my troubles. She gave me $50 off. Call it gas money.
After a late, dinner of PBJ, I got everyone in their pj's and set the big kids up with a movie (special treat) while I gave the baby her bottle and put her to bed. It was then I noticed there was some sort of short in the electrical wiring in the room and the lamp light and ceiling fan lights kept flashing on and off every 45 seconds or so, even though they were off. I ended up unscrewing the light bulbs from the lamps and turning off the ceiling fan completely. At this point I was too tired to even complain.
Though I didn't sleep too well, for fear the electrical shorts would cause a fire, morning arrived and we were all alive. It was time to hope for at least a good morning before we drove home. After another taste of poor service at breakfast we were off.
We started off the morning at the Lagoon Beach. It was really nice and the kids had a blast playing in the water and looking for shells, hermit crabs, fish and pretty stones.
Our next stop was the Pirate Pool and playground, which the kids absolutely LOVED. It was perfect and we could have spent at least four hours there!
I would have loved it if the water cooler they had out there actually had water in it. Or, if they actually served lunch or beverages in the closed restaurant there. Just a thought since the place was packed and the nearest food and beverage hut was a three minute walk away.
This clearly wasn't a vacation, or a true escape from my problems. But in the end, I was able to spend the day with my kids without any distractions or cares (beyond those of the resort) and I suppose that was worth driving eight hours for.
 Final Conclusion:

Hawks Cay is a fun place to take your kids but the service wasn't great (in 2009). If you stay in the Marine Villas be sure to inquire as to what services (if any) are available to you.  When we stayed there we could not order room service and it had to be picked up.  Not a big deal if you are traveling with another adult, but in my case I was the only adult with 4 small children and so it wasn't ideal.