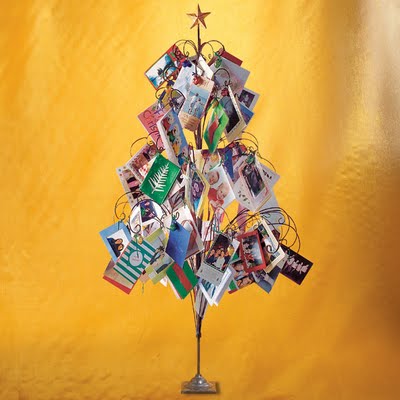 I found this gorgeous Christmas Card Tree from Wisteria last year. You place all the Christmas cards you receive on it. Isn't it a cool and gorgeous idea?
Our family is taking it one step further. Instead of just displaying the Christmas cards we receive we will be praying for each family as we add their card to our tree. In the interest of full disclosure I have to admit I didn't think this one up on my own. One of our neighbors places all of the Christmas cards they receive into a bowl, then, AFTER the holidays they draw a card out each night and pray for that family. I know they do this because they even send out a postcard letting the family know about their family's beautiful tradition and that they were prayed for. It feels so good to receive this postcard from them ( even in February because Prayer Warriors are popular) and know we were prayed for. It is truly a wonderful gift.
See, making your own traditions isn't that hard, and it's a lot of fun too. I hope one of the traditions we are creating this year will inspire you to celebrate CHRISTmas with your eyes on Him instead of on a shopping list or the latest must-have-toy-of-the-season.