Ahoy there, Matey!
There be a Pirate Party on the Horizon!  Here's the details on how to host your own Buccaneer Bash.  Avast Ye, the invitation sets the tone for the party, so don't be forgetting about it, or ye might have to walk the plank!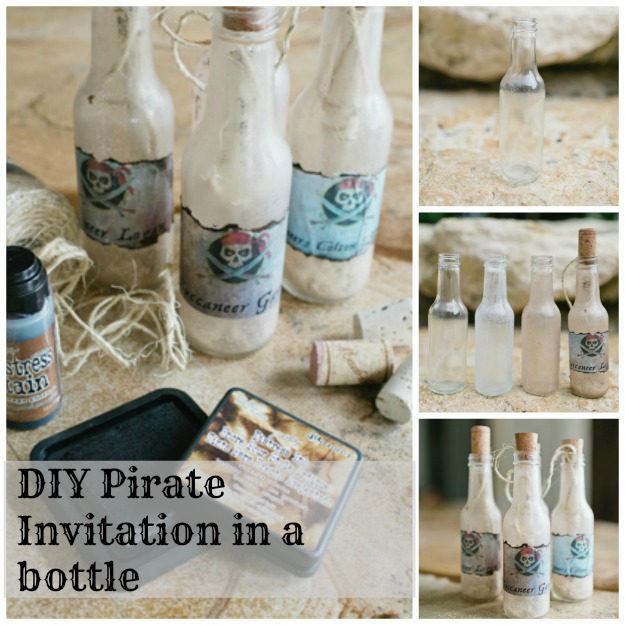 DIY Aged Glass Bottle Technique

There are numerous ways to age glass bottles but my favorite technique for this application is to combine the sandpaper technique with a little glass enamel wash.  I think it gives it an older aged look that is perfect for a Pirate Party Invitation in a Bottle.

Step One:  Using a heavy grain sandpaper (I like 80 grit) sand the bottle in various directions.
Step Two:  Mix 40 % enamel paint with  60% water to create a wash and apply evenly with a brush.
Step Three: Using a paper towel, cloth or tissue dab lightly around the bottle.  This will give texture and remove some of the paint.
Step Four: Allow to dry completely.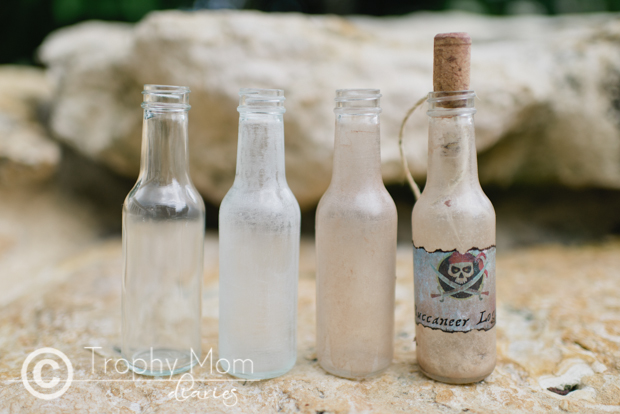 DIY Pirate Party Invitation in a bottle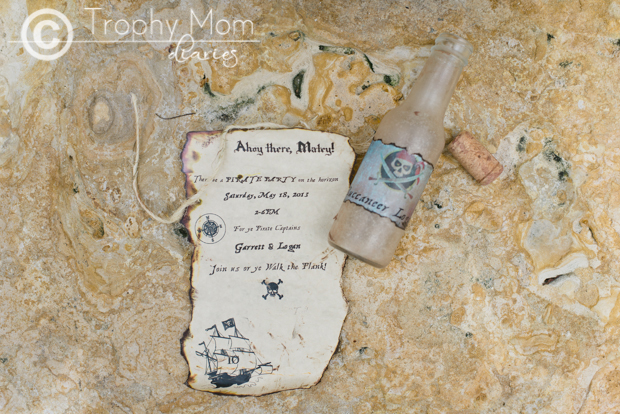 Step One:Create a custom label for your invitation.   For our invitations I customized each label with the name of the guests with 'Buccaneer' followed by the child's name.
Step Two: Create an invitation using parchment paper.  Try to be creative with the text.  There are a number of great websites to look up popular Pirate phrases or jargon.
Step Three: Hand tear the edges and use an ink pad on the edges. My favorite is Tim Holz's distress ink, but a regular ink pad would work too.
Step Four: Crumple paper into a ball, and then unfold it.
Step Five: Roll paper up and wrap twine around it and tie a knot.
Step Six: Add sand to the bottle (if desired) and shake it up so the sand sticks a little to the sides of the inside of the bottle.
Step Seven: Insert roll into the bottle, leaving enough twine to hang out the side of the bottle.
Step Eight: Add a cork (not too tightly).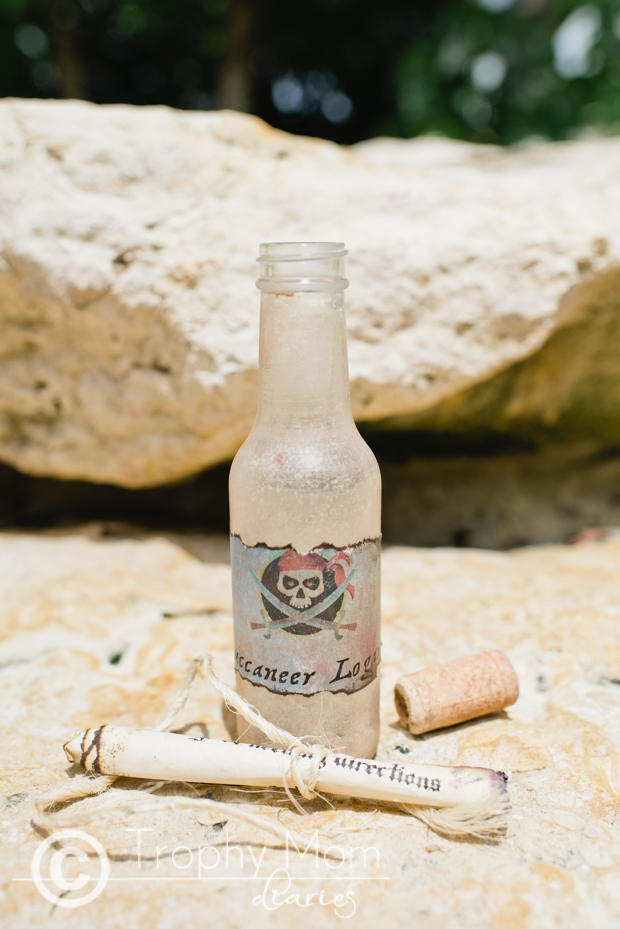 Additional Resources
See how the party all came together in the DIY Pirate Party for Kids post (coming soon!).
Don't forget to visit the Pirate Party Resource page for more information on where to find materials used in this project.
Learn How to age costumes