We've decided to embrace Halloween this year but spend it at Disney World with my cousin's family and the grandparents.
The kids are excited about going to Disney for Halloween and are enjoying pondering what Mickey and Minnie and the other characters are going to dress up as.
There was a brief moment of concern over who would be giving them candy, but I feel confident that I've addressed and put to rest their candy-less Halloween fears.
Since we will not be home for Halloween we are not decorating.
This has been hard on the kids and on me.
I really enjoy decorating.
But, we are moving next year (hopefully) and most of our belongings are in storage.
It just doesn't make sense to decorate this year.
So we have been concentrating on fall crafts and small homemade interior decorations.
If you are naturally crafty of course you can whip up anything.
If you aren't naturally channeling Martha it's amazing what neat things you can find to download online.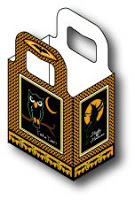 Treat Boxes/Party Favors:
Candy Corn treat boxes
Dancing Skeleton puzzle
Box for Dancing Skeleton
Black cat Halloween treat bag
Tiny treat bag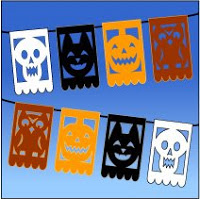 Decor
Cat Silhouette banner
Owl silhouette banner
Pumpkin silhouette banner
Candy Corn Garland