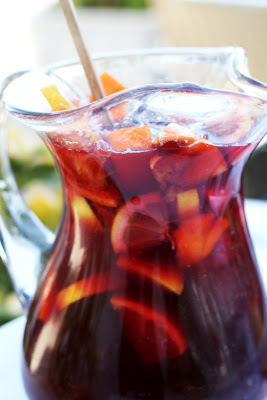 One evening I had a Sangria tasting party with two of my friends.  Each guest brought along their favorite Sangria recipe and we had a little taste testing and recipe swapping.  I made the  Pioneer Woman's Sangria which is strong and contains a lot of hard alcohol. I think you must wear cowboy boots and live on a real ranch (or a frat house) to handle that. It is over the top strong!
Hands-down these two recipes were the winner and have now become a summer staple at our home.
White Peach Sangria
1 bag frozen peaches
1 can frozen Bacardi peach daiquiri mix
1/2  can white grape juice
Make at least 4 hours ahead and add 1 can of Sprite before serving.
Red Sangria
1 1/2 large apples peeled (Fiji or Granny Smith)
1 orange peeled
1/2 can Mandarin Oranges
1 lime peeled
1 can frozen MinuteMaid Limeade
1/2 can MinuteMaid fruit punch
Make 6-8 hours ahead
for best results