Cork is my latest decorating obsession.
And let me tell you, cork has come a long way.
We have cork on the floor of our Master Bedroom and we have used Wall Tiles as a decorative bulletin board in my office, the boys' study and our Mudroom Hallway.
This cork looks exceptionally good with the bamboo wood floors in my office.
The cork I used is from Amcork. I really like the quality of their product and the styles. If you are considering cork you should request few free samples from Amcork to experience it for yourself!
I especially like how masculine the cork in the boys' study looks. It has been a hit with our sons!
When using cork in a wall-to-wall application, don't forget to treat it like any other wall—-you can still hang art!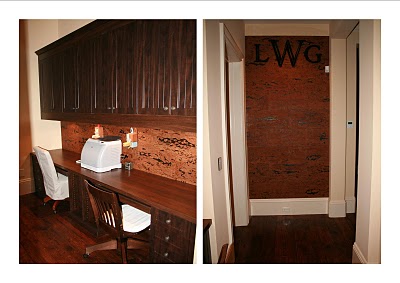 I think it looks even better when you do.
What do you think?
Where to purchase Wall Cork:
Boys' Study Area: Chocolate tile
Her Office: Coral Cork Tile