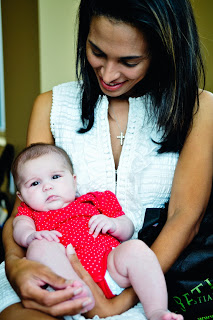 Our sleepy girl
I can't look at this photo of our sleepy girl without tearing up.  This was the moment she became my daughter and my heart broke off into 2 more pieces—a piece for my daughter and a piece for her first mother (birth mother) V.
Now there are 6 pieces of my heart walking around outside my body.
No one can prepare you for the moment you realize that you deeply love the mother of your child.  Would you think poorly of me if I told you that my mind was constantly consumed with thoughts of V  for 3 days after placement? Its not that I've now stopped thinking about V—- Obviously not, since I'm barely into this blog post and here I am writing about her.  It is just that they aren't all consuming any more, even though they are still daily.  When I began the adoption process I expected to have a high amount of respect for our child's first mother, but I didn't expect to love her so deeply, though I am glad I do.
 As I go through daily life trying to find a new routine as a mom of five, my thoughts are filled with everything from the mundane to the beautiful.  It is truly amazing to discover your children's personality and interests.I am still in awe that God would entrust me with the testimony and children that He has.
Of course my love for our new daughter is exactly what I would expect it to be. Since I have 4 biological children I can honestly tell you that my love for our newest addition is just as deep and just as strong.
And there it is….as I sit here with tears pouring down my face I've just realized that 15 (has it really been that many?) days post placement my daughter has now consumed every inch of my being and I feel 100% her mother in every way.  She recognizes my voice and my smell and we know each other.
I think V. would be proud.