Shoes bring much angst to our otherwise happy household.  First, there is the shoe size increase that happened to me almost 2 years ago that I'm still suffering over.  Having to give away more than half of my shoes has been painful, not to mention  the misery and frustration that comes from trying to buy shoes when you now need a 10.5 shoe.
Then there is the misery that comes from buying shoes for all FIVE of my children.  But let's face it, even buying shoes for 3 children is misery.  Its not my children's behavior, its more the store employees behavior and the fact that selections and stock always seem low in whatever sizes I need.  Spending half the day at the mall to return home with one shoe for 2 of the four children I took, hardly seems worth my time.

That is how I discovered Zappos.com and since I've already sung their praises on my blog (unpaid I might add), let me tell you about my latest purchase and why it's the best $50 I've ever spent.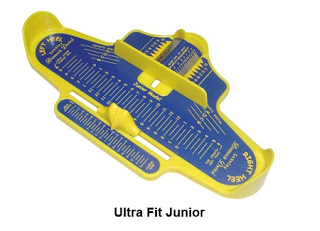 I bought our own Brannock Device (the junior model)  so that now, not only can I measure my children's feet myself (and avoid the trip to mall), but I can also keep up with all the growing feet in the house so we don't end up with unnecessary blisters and complaints an hour after we leave the house.
If you are wondering how I'm spending my day today, wonder no more. I will be clearing out the old shoes and placing orders for new shoes online. The shipping and returns are free!  If you don't have children, check Zappos out for yourself.