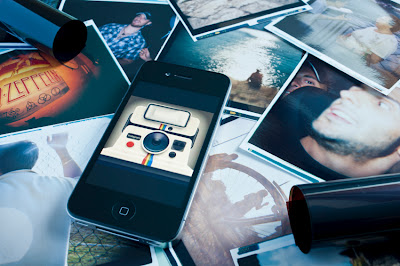 I have a serious crush on Instagram.  As far as social media platforms go I think I would place Instagram above  Facebook and Twitter as my favorite social media platforms.  As my interest (or addiction) to Instagram has grown so has the ways in which I like to utilize it.

Whether you are just venturing out into the Instagram world or are looking for new ways to utilize your own Instagram pictures, here are some ideas on how to get the most out of your Instagram pictures.
Your instagram feed isn't the only place you can share your photos.  The Instagram App allows you to easily share your pics  via Facebook,
Twitter, Tumblr, Flicker,  and Four Square, however you aren't limited to those platforms.


Since photos are saved to your picture gallery you can share your Instagram pictures anywhere you can upload a photograph.
 If you are a blogger consider using Instagram and a few creative photo apps to create photos for your blog.
Create a Photo Journal
 One of the things I've recently discovered doing with my Instagram shots is actually printing them out (iPhone Photocube Printer) and putting them into a Smash Journal.  
I particularly like to make travel journals this way, however it also is a great way to keep a photo journal.  I'm also thinking of making one for each of our children which will include funny things they say and special memories.  Need some more ideas?  Read: Stuff to do with all those Instagram Shots.
Create Photo Gifts & Products


 In addition to sharing your pictures virtually, via social media platforms, you can turn your Instagram pictures into real works of art or just print the photos to use and share  the old fashioned way.


Become  an Instacanv.as artist and you  can curate your own Instagram gallery and allow others to purchase your pictures.  Another
alternative to Instacanv.as is Canvas Pop where you can also turn a picture into multiple split canvases or select from various frame styles and sizes.  While you're at it, don't forget to purchase your own art and create your own custom wall art for yourself or gift to others.
Casetagram allows you to take your favorite Instagram pics and turn them into an iPhone case. 

Postagram allows you to send real or virtual postcards using your Instagram pics. I particularly like this for my travel photos (alternative to purchased postcards), but they also work great as a thank-you to a hostess for a great party you attended, or use them to create thank-you notes for your children.  Your first 5 Postagrams are currently free, so give it a try!
Printstagram allows you to print virtually anything using your Instagram photos.  My personal favorites are the:
Memory Box where you get tiny prints in an archival box. This is a great way to showcase your children's artworks and favorite childhood things.  Just take a picture and you'll have it forever.  Alternatively, just get an  memory box full of everything you've ever taken on Instagram and sort it by year. You'll have an instant photo record of your year and you won't have to worry about what losing your pics if Instagram ever gets taken down or changed by Facebook.

PhotoSquares come in 2 sizes and can be used in scrapbooks, photoalbums or Smash Albums.

Mini Books are 3.5 x2.4 books of your favorite pictures.


Take better pictures
The ultimate way to get the most out of your pictures is of course to take better pictures to begin with.  If you have an iPhone the smartest thing you can do is learn to master your iPhone camera technology.  Lets face it, most of us take the majority of our pictures using our iPhone.  Why? Because it's handy, its easy to use and its always on us! 
I've created a list of my Favorite Iphone Camera Apps to help get you started.