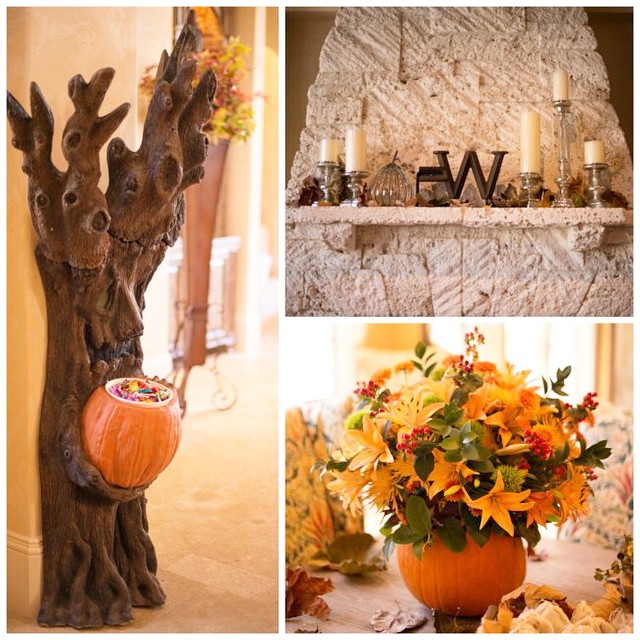 Our Fall/Halloween Decorations are out and the house now has a festive feel to it, which isn't easy when you live in South Florida. I can already feel my mood lifting and the ideas swirling for how we will celebrate the holidays (Halloween, Thanksgiving, Christmas and New Years) this year as a family.  I'm also inspired to make this Candy Cake for my kids (and it's gluten free).
In the News
Brittany Maynard's story  really hit me in the gut.  Cancer is no stranger to our family and even now a cousin, someone I care about and a member of our church family is battling this horrible disease.  I believe this topic, although uncomfortable, needs to be discussed with compassion and empathy.
"If you are saying that it is dignified and brave for a cancer patient to kill themselves, what are you saying about cancer patients who don't? What about a woman who fights to the end, survives for as long as she can, and withers away slowly, in agony, until her very last breath escapes her lungs?
Is that person not brave? Is that person not dignified? I thought we applaud that kind of person. I thought we admire her courage and tenacity. Sorry, you can't advance two contradictory narratives at once. If fighting cancer is brave then it is brave PRECISELY BECAUSE she is fighting it rather than giving up and choosing death."
"Suffering is not the absence of goodness, it is not the absence of beauty, but perhaps it can be the place where true beauty can be known. In your choosing your own death, you are robbing those that love you with the such tenderness, the opportunity of meeting you in your last moments and extending you love in your last breaths."

Weekend Clicks
This is simply genius!
49 uses for your smart phone's camera
These books finally hit my doorstep:  The Best Yes: Making wise decisions in the midst of endless demands and Elements of Style: Designing a Home & A Life.
Have you ever thought of taking a Calligraphy class?  I feel inspired to take a class before the holidays.
For the Kids
Have you taken your kids to see Boxtrolls in 3D yet?  Don't forget about the book that inspired the movie. It's a great as a read-aloud or for independent reading.
I am probably just as obsessed with our Osmo as the kids are. I don't think the video on the site does the product justice. If I had to pick a favorite game I would say it is Words…but Tangram and Newton are right on the heels.
This weekend, let's all try to Practice Gratitude and Celebrate Life.