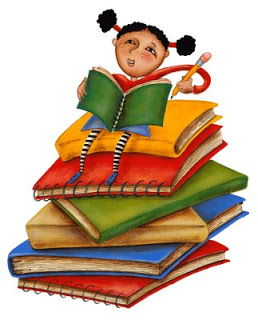 If you have young children you are most likely already participating in read-alouds. Non-homeschoolers refer to this simply as story time, and it generally occurs in the evening.
Exposure to quality children's literature and picture books is a wonderful way to ignite a love of reading and is said to be essential in developing language and pre-reading skills.

Here are some tips for getting more out of your Read-Aloud time:
Pick picture books that follow a theme or share something in common. You may choose books by the same author, about the same subject (Spring, Alphabet Books, Math, Bilingual, siblings, family, nature, etc.)
Present the books to your child and ask them if they can tell what the common theme is by looking at the books. This is also a good time to discuss the parts of a book (front cover, back, where the title is, author's name, spine of the book, and author bio/picture on the inside back cover).
Look for hands-on ways that you can extend the book. Is there a coloring page, craft, field trip, song, puppet show, or game that follows the theme of the book? Bring the theme and story to life for your child by developing activities that you can do together after reading the book.
Consider doing a study on your favorite children's author or illustrator. It is important that children realize that real people created the books they enjoy. You can also help them make their own book. You can either have the child write the story and draw illustrations or you can write the story they dictate and they can create the illustrations afterward.
Online Resources:
Authors & Illustrators on the web
Kids Reads
"Kidsreads is the best place on the web for kids to find info about their favorite books, series and authors. Reviews of the newest titles, interviews with the coolest authors and special features on great books are our specialties. And for even more reading fun we have trivia games, word scrambles and awesome contests!"