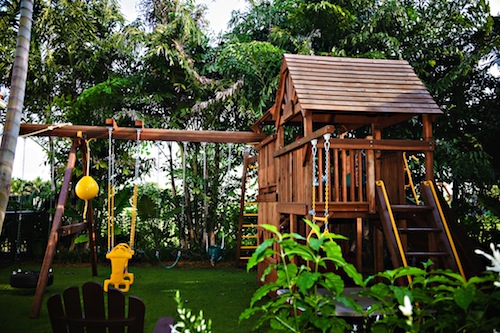 Our dream playground was installed today from Rainbow Play systems. I just am so impressed with this company. From the quality of their play structures to the fun factor. It's impressive. Have I mentioned there is no weight limit on this thing? It is commercial grade and built for adults to join in on the fun.
Even though we have no idea when we will actually be able to move into our new home, we sure are having fun visiting our finished playground area.
The play yard is a side yard right off the playroom/classroom and mom's office/classroom. How perfect is that? I imagine myself saying, "Time for Recess!" and maybe ringing a little bell. Or perhaps I'll save the bell ringing for when it's time to come in? I could blow a whistle or wear a cute apron and come out and sweetly say, "Time to come in, kids!"
Maybe during recess I will sit by the window in my office and look out at my children and sip some tea. Maybe it will be hot. Maybe it will be iced.
Oh, who am I kidding? I'll be out there playing with the kids! Who can resist a play structure like this?