Things to do with Kids in San Francisco
This post is part of a travel series on San Francisco. You may wish to start with: Travel With Kids: San Francisco Part One.
 Exploratorium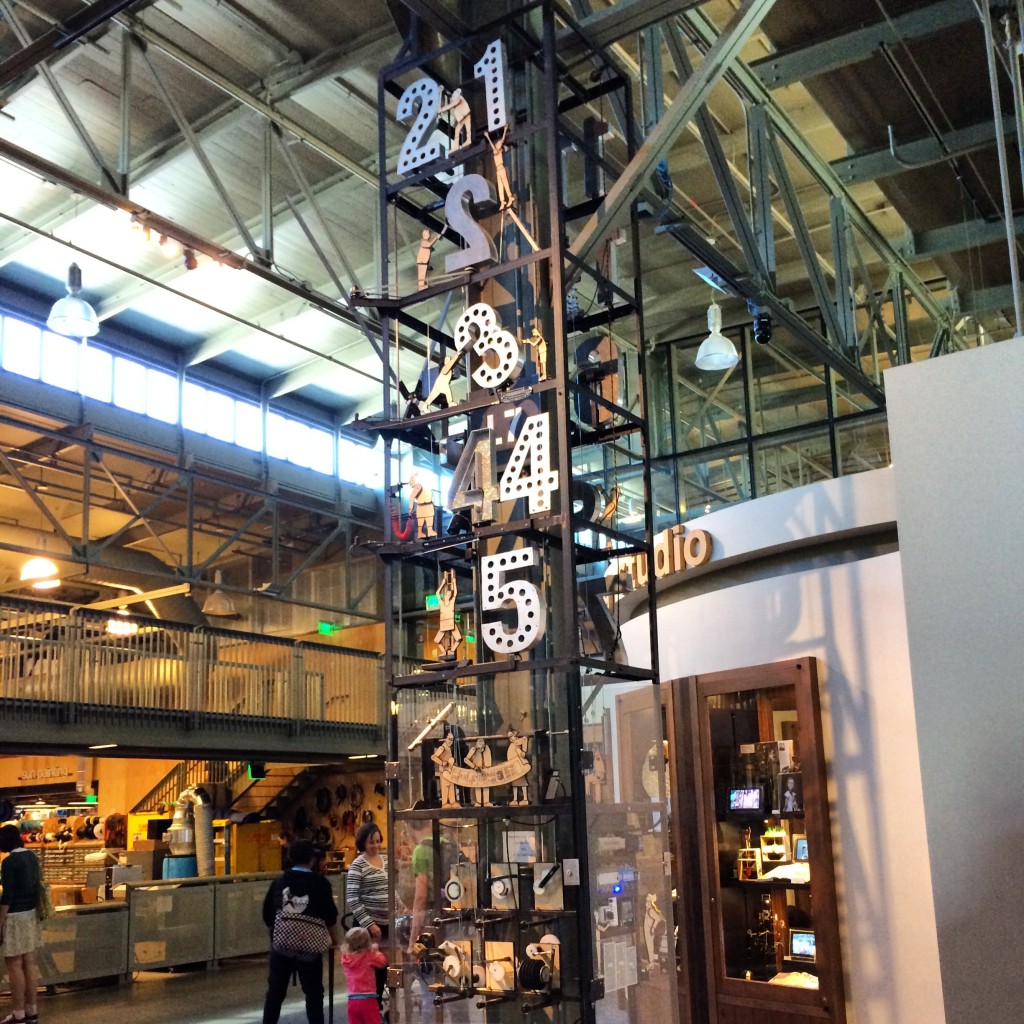 The Exploratorium is a Twenty-first Century Learning Lab.  It takes the best part of a hands-on children's museum and mixes it with real science, exploration, tinkering and adventure.  I'm not sure what we were expecting when we went, but we were blown away.  It is a fun and interesting place for children and adults alike.  The youngest child we took on this trip was six years old and she loved it, but the older children definitely got a little more out of it.  I would NOT recommend the Exploratorium for children under age 5.  While there are some fun exhibits that they might enjoy, I really think the bulk of the Exploratorium is geared for older children.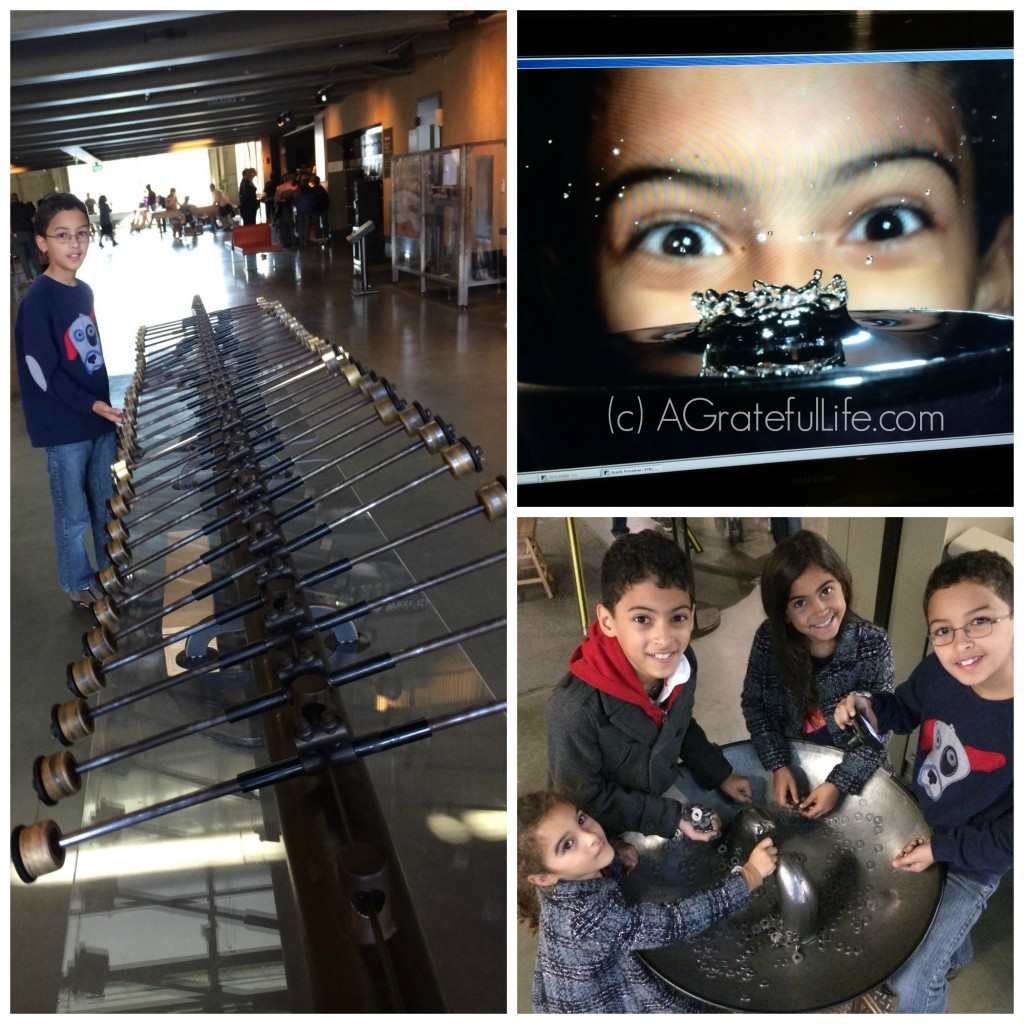 San Francisco Maritime National Historic Park

The San Francisco Martime National Park is located on the edge of San Francisco Bay, in the Fisherman's Wharf neighborhood. Kids ages 5-12 can pick up a free Junior Ranger Program activity booklet at the ticket booth or in the Visitor Center. Learn about the park and earn a badge. You can explore the exhibits in the Visitor Center and stroll down Hyde Street Pier and check -out the ships.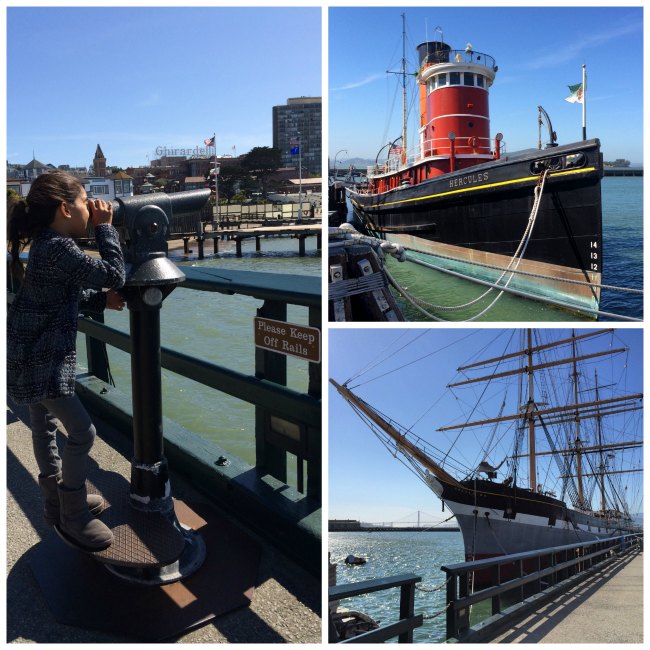 Golden Gate Bridge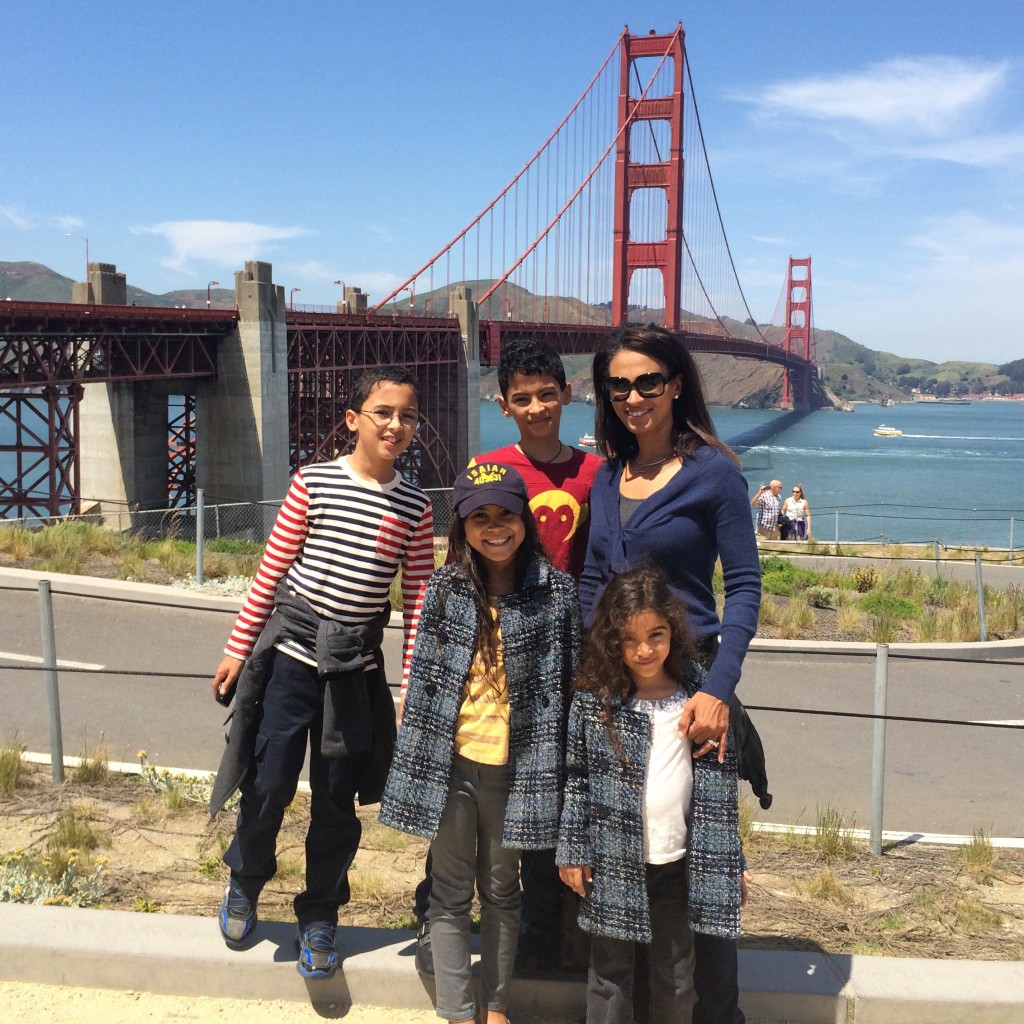 No trip to San Francisco would be complete without seeing and experiencing Golden Gate Bridge.  This iconic bridge connects San Francisco to California's Northern Counties.  With its 746-foot towers and bright orange color (which looks a bit more red)it stands out in the San Francisco landscape and boasts over 10 million annual visitors.  Pedestrians and Bicycylists are welcome to walk across the bridge (1.7 miles) during bridge sidewalk hours.   We were lucky and did our walk on a gorgeous sunny day.  We did the walk in one hour, stopping a few times to take in the sights and watch a Sea Lion below.  The bicyclists can make walking with children a bit stressful so hold on to young hands and keep them on the inside of the bridge (by the rail).  Don't miss the Golden Gate Bridge Outdoor Exhibit.
California Academy of Sciences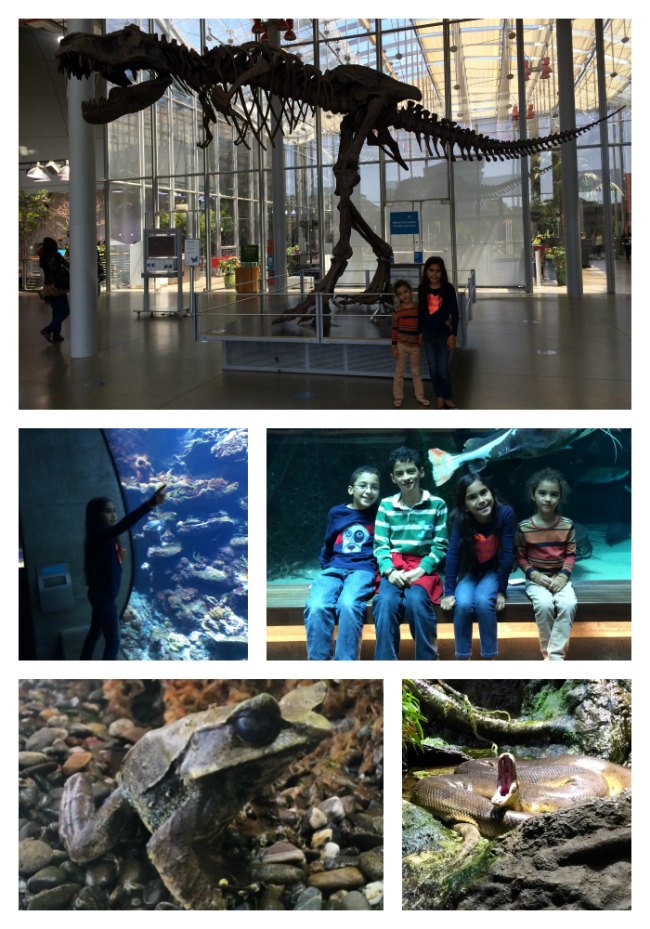 The California Academy of Sciences is a planetarium, Aquarium and Natural History Museum.  Our children enjoyed the Rainforest Exhibit the most.  A highlight was seeing an Anaconda yawning.  By the Anaconda exhibit there is a place to put your arm or hand inside so that you can feel what it would be like to be squeezed by an Anaconda for 10 seconds. It startled more than a few children and guests!  We went to the California Academy of Sciences after our trip to the Exploratorium which felt like a let down to our kids.  I think they might have enjoyed this museum more if we had gone first or on another day.
Alcatraz Island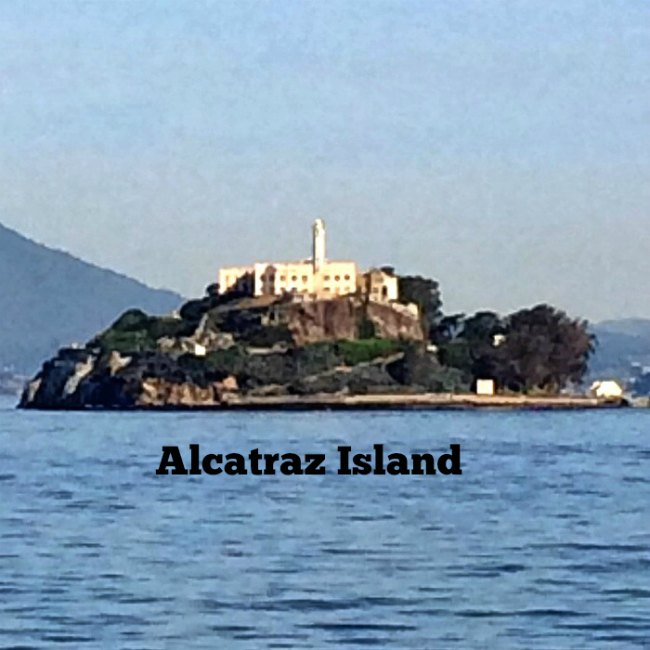 Although we did so many exciting and fun things in San Francisco, Alcatraz Island was definitely a crowd favorite.  The audio tour is perhaps the best audio tour I've ever experienced.  All of the kids enjoyed it and it and it even kept our six year old engaged for the entire tour.   We all learned so much about Alcatraz and it was incredible to walk through the prison and grounds.  I cannot recommend a trip to Alcatraz enough.  We took the first boat out (8:45am) which I strongly encourage you to do to avoid crowds.  While the boat was full, the later you stay, the more people arrive on the island, so the more crowded it gets.  Don't miss the Alcatraz gift shop there are a lot of interesting books, movies and memorabilia.  On the day we were there a former prisoner was signing his book about his experience on Alcatraz.  Our boys really enjoyed the graphic novels detailing some of the breakout attempts.  Take advantage of buying ALL of them so you don't find yourself trying to make a second trip back to buy the copies you missed.  They really are that good.  You can also shop the Online Store which has some of the items you will find at the bookstore.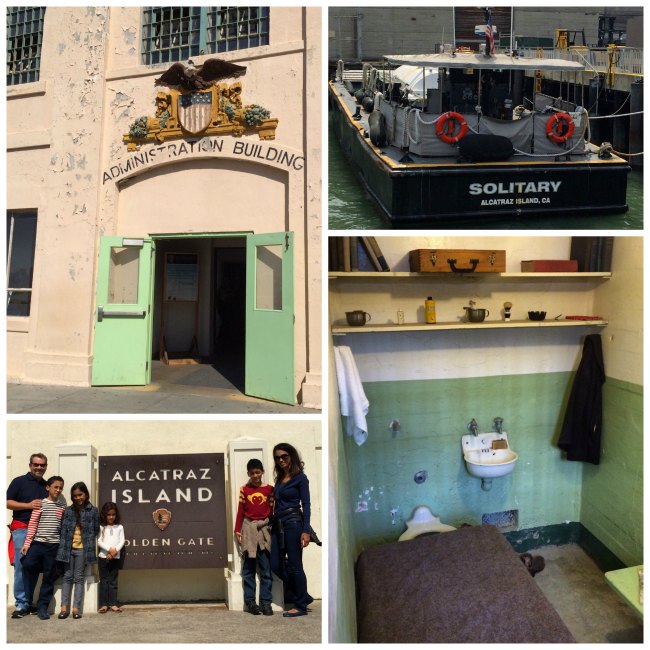 San Francisco Cable Car Museum
The San Francisco Cable Car Museum is FREE and worth a visit if only to see all the gears in operation. Don't miss visiting the lower level to see what is underground.
 Palace of Fine Arts

The Palace of Fine Arts is a great place to visit when the weather is nice.  The gardens are beautiful and it's fun to walk around and explore.  A lot of special events seem to be held here, including weddings, and I can see why.  The kids really enjoyed walking around and taking pictures, we even saw a Swan.
San Francisco Cable Cars
No trip would to San Francisco would be complete without a ride on a Cable Car. The best line to pick up is the Hyde line because it is the longest. The best time to go is first thing in the morning because the lines can be L-O-N-G. Another tip is to pick it up midline, or ride another line where it won't be as crowded.
Boudin Museum Bakery Tour

The Boudin Museum Bakery tour cannot be missed.  I am so glad several friends recommended this. We were all blown away by the enthusiasm and knowledge of our tour guide, the quality of the museum, hands-on and photography friendly exhibits,  and the rich San Francisco history that is a part of Boudin Bakery.  Don't miss taking the test to find out what kind of bread you are. It sounds silly but trust me. You'll want to take the quick quiz.
Restaurants
If you've been a long time reader you know I started out with some very  picky little eaters.  Somehow, we crossed out of that phase and now have children who enjoy trying new foods.  So, if you're currently struggling with picky little eaters.  Please, be encouraged!  Here is a list of some of the great restaurants we enjoyed as a family during our trip. 
Water Bar…incredible views. Excellent service. Amazing Raw Bar and Seafood.
In-N-Out Burger...yes. It is a must, especially if you're from the East Coast and don't have one.
Butterfly…located by the Alcatraz dock. Beautiful restaurant.  Nice, healthy selection of food. We enjoyed lunch here after the Alcatraz Tour.
La Folie…amazing french contemporary food.  One of our sons tried the pigs feet and rabbit and earned himself a table-side visit from the chef who complimented him on his 'gourmet' tastes!  The service is NOT stuffy and pretentious and very comfortable, though it is a long meal.
Amber India…Excellent Indian Food.
Farrallon…gorgeous restaurant. Coastal Cuisine.  Food came out at a steady pace.  Seared Rare Hawaiian Ono was wonderful!
The Magic Flute…hidden gem that is mainly frequented by locals.  Try to eat on the patio if possible.  We went for lunch.
Wayfare Tavern…As luck would have it we ended up in the private room upstairs (benefits of being a large family) which suited us just fine as the restaurant can be a bit loud. The staff was amazingly friendly.  The food was incredible.  Definitely makes the list for one of our top  3 San Francisco restaurants.
We had a fantastic time in San Francisco with our kids.  Although it is impossible to take in everything that a city has to offer in a one week, we felt good about the things we did get to see and enjoy as a family. 
Have you been to San Francisco with kids?  What would you add to this list?