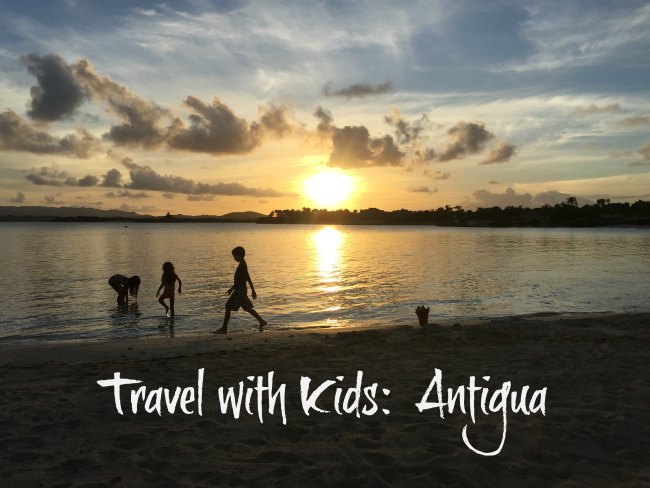 Jumby Bay (named after the Antiguan word jumbee, meaning playful spirit) is a private 300-acre Caribbean island reachable only by boat, with no cars in sight.
This all inclusive resort offers a variety of activities that are perfect for the entire family.
Upon your arrival in Antigua your private escort will guide you through customs and take you to the private  dock where you will transfer for a  7-minute cruise to the island.
Around the island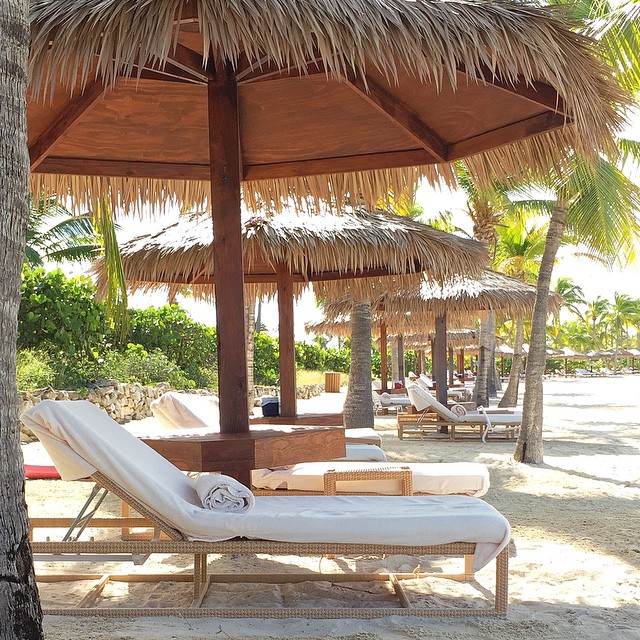 Four and a half miles of pristine private shorelines give beach lovers something to appreciate. Jumby Bay Beach is the main resort beach and where you will find cocktails, cold water, snacks and beach attendants.   Although this is the 'public beach' for the resort, we never felt crowded during our stay.  The beach attendants come through several times offering cold drinks and snacks from trays in addition to taking your order for specific snacks and drinks.
For those wanting something a little more private and secluded Pasture Bay Beach offers the ultimate in privacy and the hotel concierge can even make arrangements for a private set up or picnic.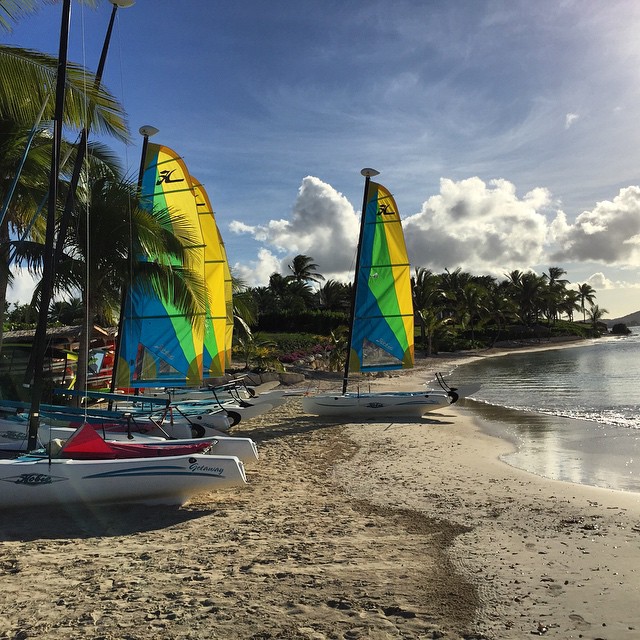 Persian Black-headed sheep were the first residents of Jumby Bay Island and are still there today.  They move throughout the island freely and we enjoyed seeing them with their young each day.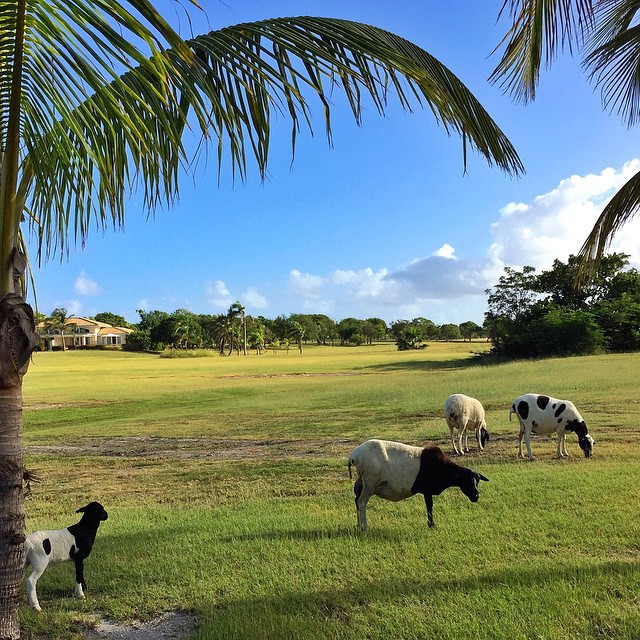 Built in 1674 by Sir Christopher Codrington and named after his daughter Betty, Betty's Hope is a picturesque Sugar Mill ruin that offers spectacular views of the entire island from the top.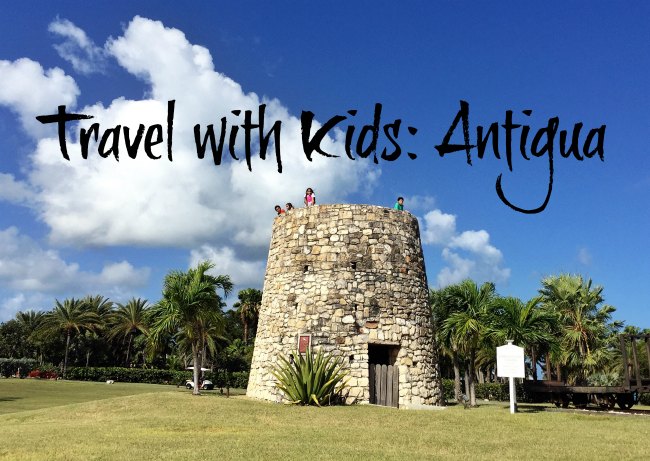 Golf carts and bicycles are the only mode of transportation on the island and it's fun to explore the island on either.  The resort provides a bicycle for each member of the family, due to the salt air some are in better condition than others.  We found the golf cart to be our favorite mode of transportation.
Memorable Moments & Special Events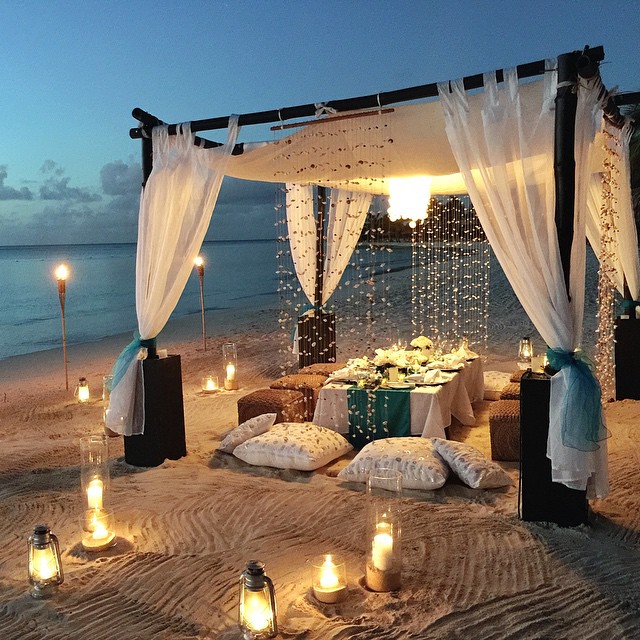 The Resort Staff is very accommodating and their goal is to help make your stay not only enjoyable but memorable.  Before our arrival (booked just one week in advance) we received several emails offering assistance with reservations and planning excursions.  I knew I wanted to have a special dinner on the beach one night and the results were absolutely breathtaking!  By far, our dinner on the beach was one of our favorite memories from the trip.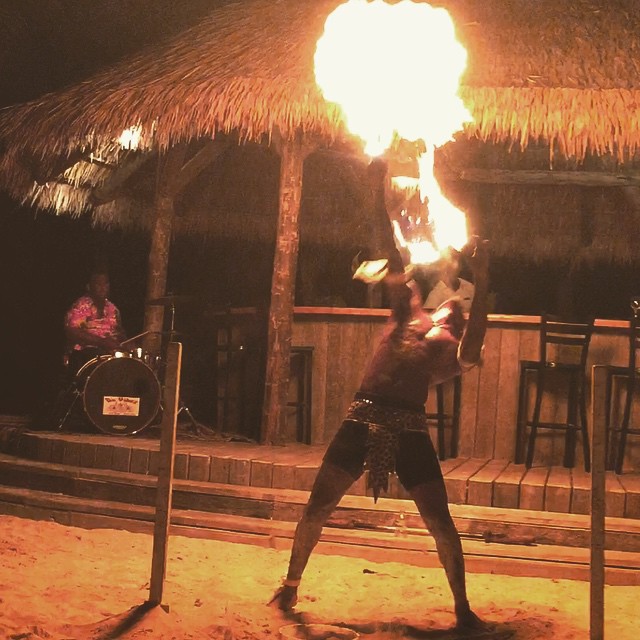 To make our dinner even more special, the resort helped secure a fire performer and small band for our entertainment.   This would be a spectacular way to either kick off or end your vacation at Jumby Bay.
Accommodations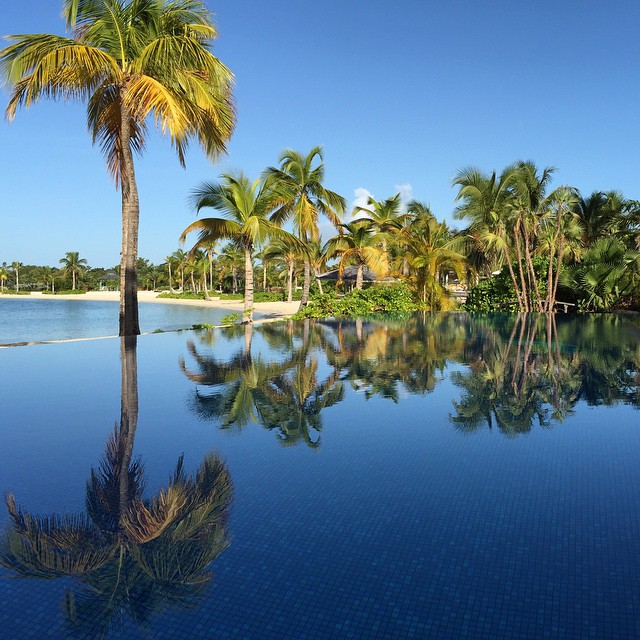 There are a variety of accommodations available on the island.  We went with the three bedroom Harbour beach villa with private pool known as the Sea Star Villa.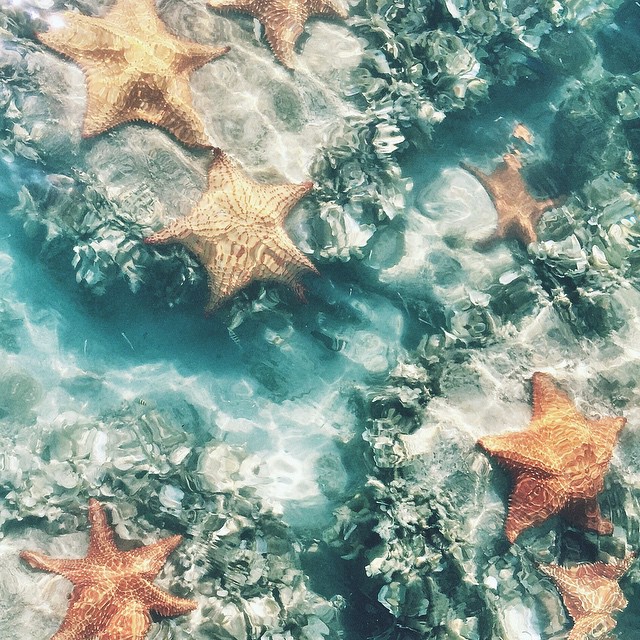 The villa had an open-air layout with the family room and dining area  open to the pool and beach while the bedrooms and kitchen had doors and air conditioning.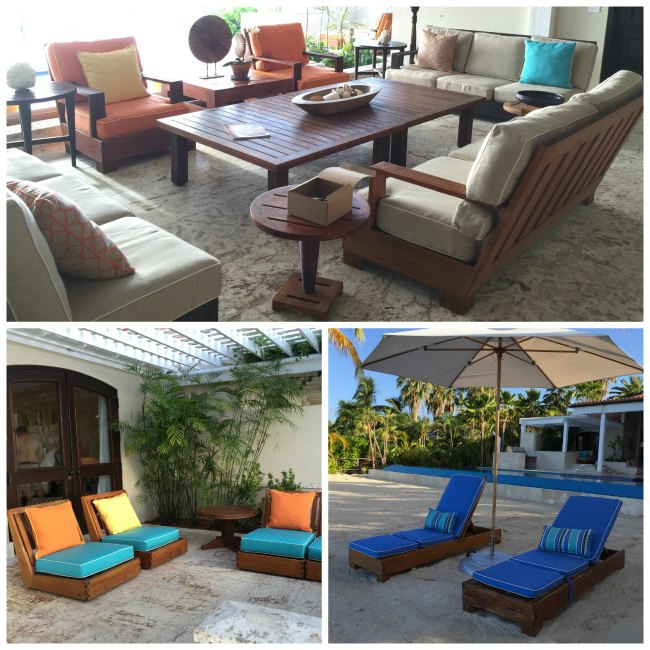 Although we technically shared the beach with other Harbour Beach Villa guests, it felt like our own beach and was wonderfully private and relaxing.  The kids found hermit crabs, starfish, sea cucumbers and conch right off the beach.  The water was gorgeous and flat, the views were spectacular and we had to pry the children off the beach for meals.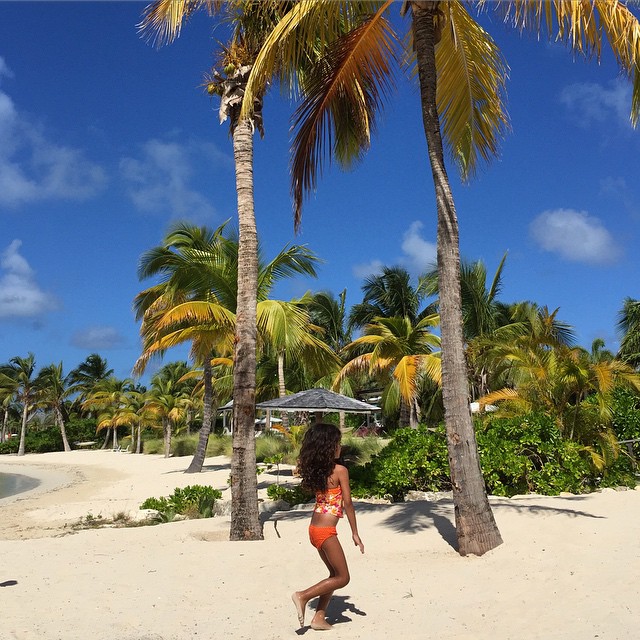 Things to do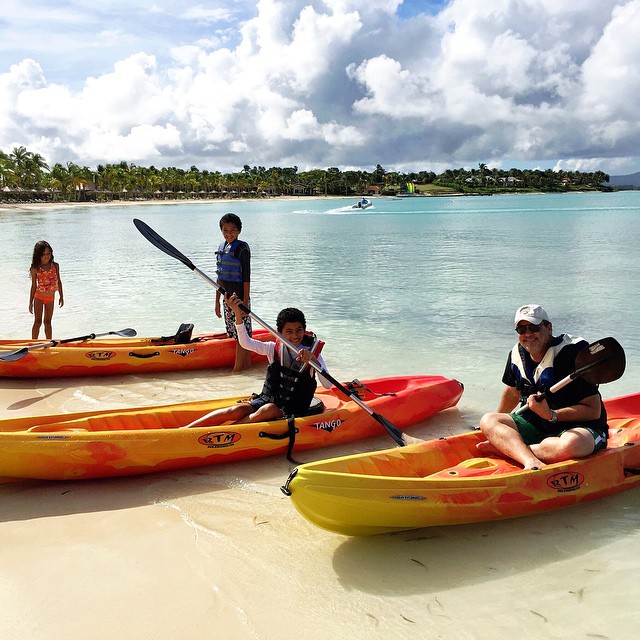 One of the highlights of our stay was the water sport activities.  Our family enjoyed kayaking, tubing, paddleboarding, and sailing lessons on a Hobie Cat.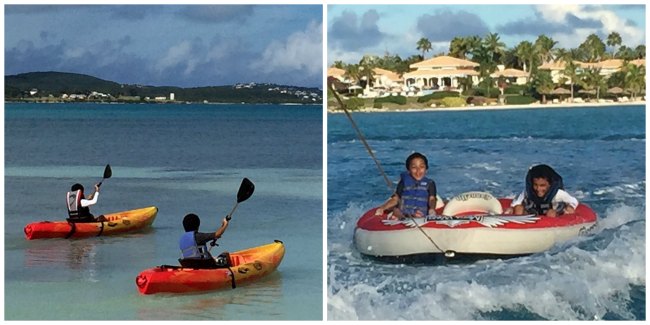 Senses spa offers a variety of massage, skin, facial and basic hair treatments. Advance reservations are a must and the resorts offered several spa specials during our stay, so check the daily resort newspaper for details.  I had two incredible massages during our stay (ask for Shirley).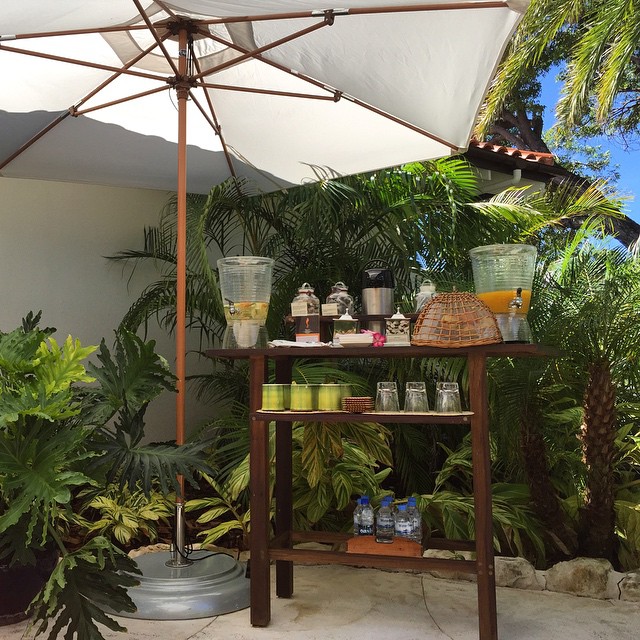 Also available is the Never-too-young-Spa menu which offers special treatments for children.  Our six year old was in spa heaven when she got cucumbers on her eyes!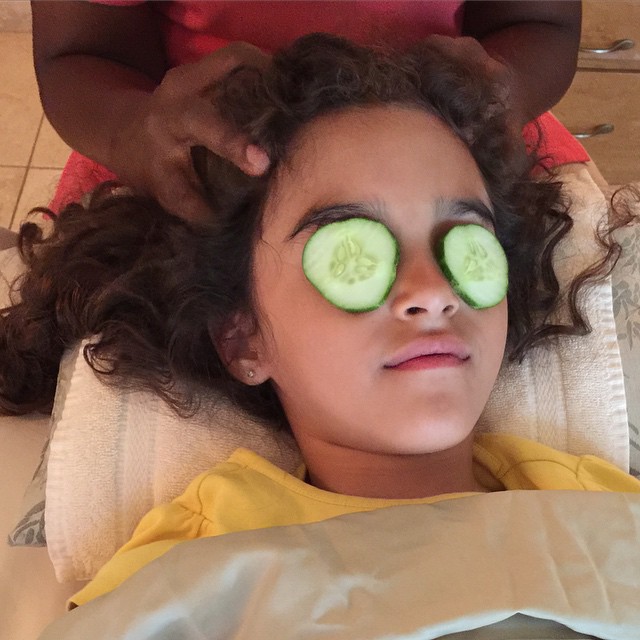 The hotel has two main pools on property; the pool located at the Pool Bar is nice if you want to combine lunch with an afternoon dip in the pool and there is a lap pool by the tennis courts and fitness center.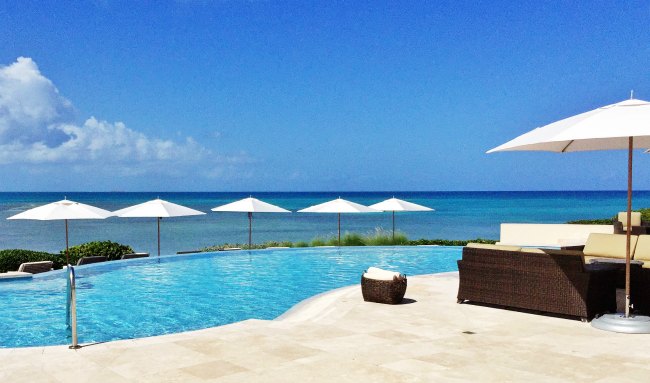 The fitness center is open 24/7 leaving you no excuses if you want to focus on fitness during your vacation.
Dining
I had read online reviews about how wonderful the food was at Jumby Bay, but I have to say we were weren't fully prepared for how incredible it really was.  There are three restaurants on the island: The Veranda (breakfast, lunch and dinner), Pool Bar Grille (lunch), and the Estate House (dinner).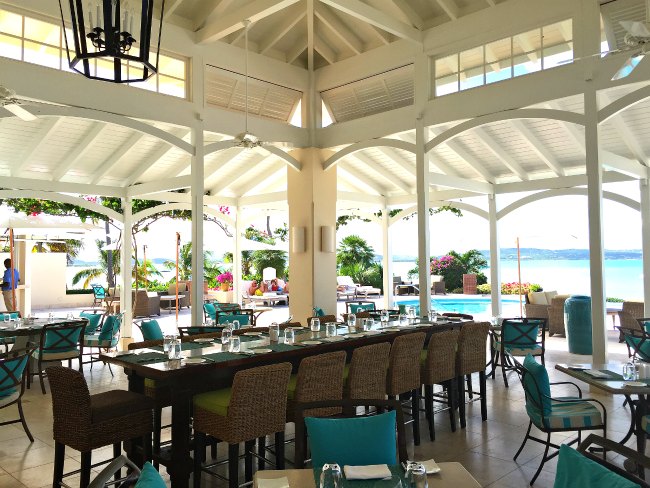 Our favorite spot for  lunch was the Pool Bar Grille where we were addicted to the squid and octopus plancha.  For dinner, we preferred the Estate House but this was more a preference in location and ambiance than menu, the menu was also lovely at the Veranda the one evening we dined there.
Favorites for Kids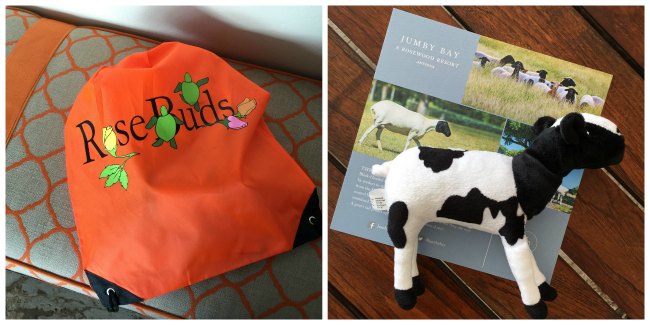 Rosebud's For Children program offers special amenities and activities for children ages 3-11.  During our stay our older children went snorkeling at Stingray Alley which was a great experience for them and it fit nicely with our younger children's nap schedule, allowing me to stay behind to supervise naps while they went on a fun adventure.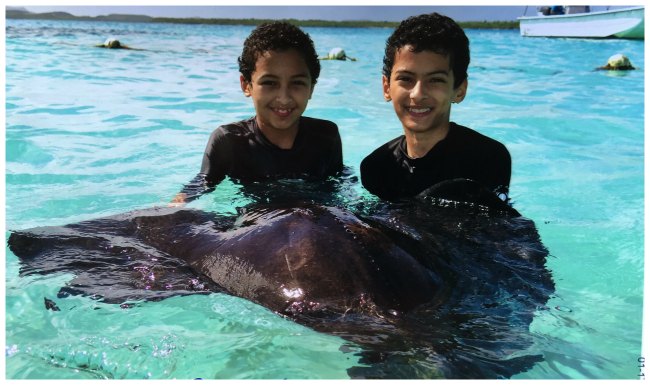 Off the island Adventures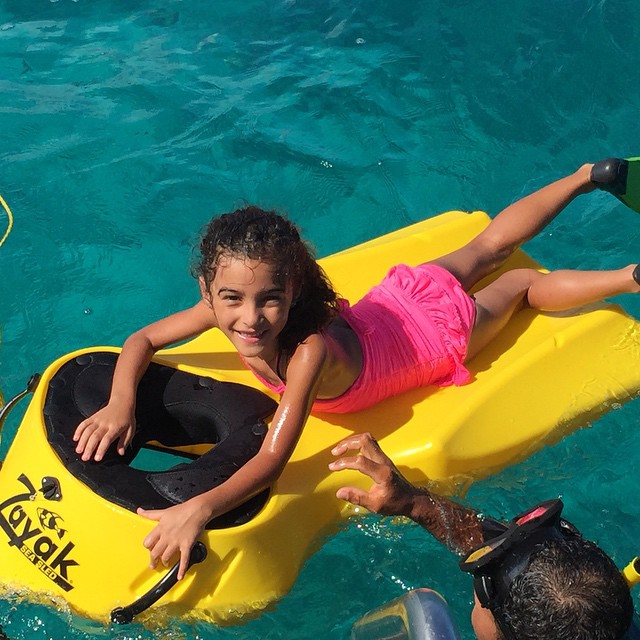 You shouldn't go to the Caribbean without taking at least one snorkeling excursion.  The water is generally calm, the water is amazingly clear and the fish and corals are spectacular.  Jumby Bay has several Zayaks which made snorkeling easier and more enjoyable for our 6 year old.  Using a Zayak Seasled the child (or adult up to 220 lbs) can float on the zayak and view aquatic life without a mask or snorkel.  A vented neoprene 'dry' mask blocks out ambient light for better underwater panoramic viewing.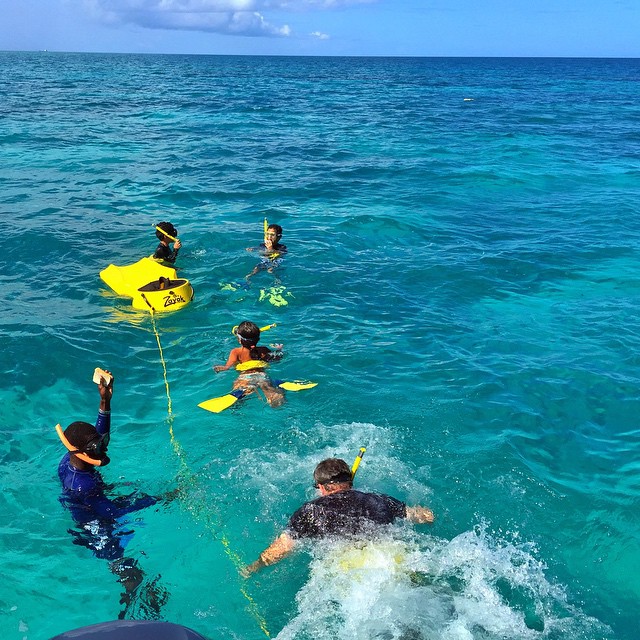 We also enjoyed a leisurely sunset cruise although it was too cloudy on the evening we went to see the 'green flash'.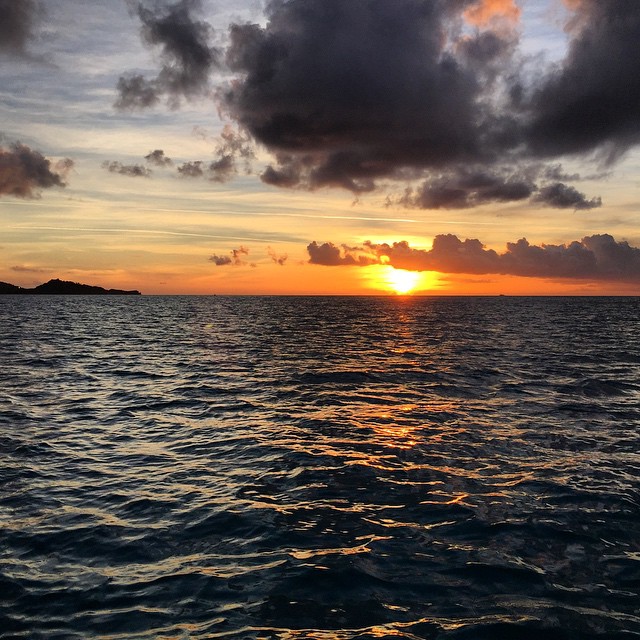 There are a variety of other activities available off the island, but honestly, why would you want to leave?