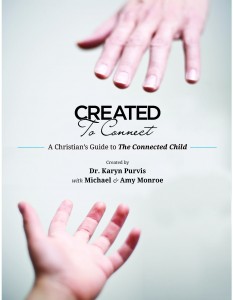 After much prayer, discussion and many prayer requests we have made an appointment with our church to discuss adoption, foster care, mentoring and foster care adoption.
I don't know where our journey will eventually take us, because I'm open to the idea that it might not take us where we think it will. We desperately want to seek God's will. We want our family to be an example of living out the biblical principals we teach our children that we believe…instead of just giving lip service on Sunday. So, we are exploring. Moving forward while listening to him.
This isn't easy for me.
I like a plan.
Preferably in a nice neat binder with color coded tabs and typed (double spaced) in a legible but attractive font. God apparently doesn't feel the need to give me one. Go figure.
Our big appointment is on Friday. I am anxiously writing down my questions, praying and reading.
Today I downloaded Created to Connect: A Christian's guide to the connected child.



Created To Connect: A Christian's Guide to The Connected Child is a study guide created by Dr. Karyn Purvis and Michael & Amy Monroe to help illuminate the biblical principles that serve as the foundation for the philosophy and interventions detailed in Dr. Purvis' book, The Connected Child. This study guide is designed to help adoptive and foster parents better understand how to build strong and lasting connections with their children, and is ideal for use in small groups as well as by individuals or couples.
If you are on a similar journey of discovery I encourage you to join me in reading this study guide.

Please keep us in your prayers, especially on Friday at 1PM.