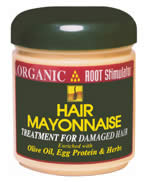 This week I was on the hunt for hair mayonnaise after receiving a recommendation from a professional hair & make-up artist from London. She swore by this product for it's deep conditioning and shine benefits. In fact, she warned that it was so good you should only use it as needed because too much protein will cause your hair to become limp.
Directions:
Use a generous amount in your hair and either pin your hair up for the day, use a shower cap and sit under a hair dryer for 30 minutes, or put some on before getting into a steam shower. Repeat every 14 days.
Although I wasn't able to find it locally, I was able to find it online and request a FREE SAMPLE.
So request your sample today and we'll compare notes next month!