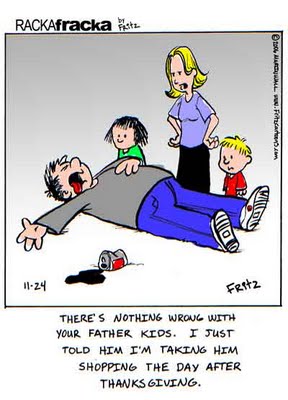 Black Friday is something I've never participated in.
I'm not sure why.
Maybe it was because I was too broke to buy anything.
Maybe it was because I couldn't find child care.
Maybe it was because I used to own a store and had to work.
Maybe it was because Al Gore invented the internet and I could shop online.
I'm not sure.
At various times in my life I've had various reasons.
Today, I was not going to shop.
But then my friend sent me a text that I had to go to Michael's to get the Cricut machine.

So after leisurely getting a Starbucks and dropping the baby off at home I decided to go.
Amazingly I found parking and there was no riot going on.
Things were looking up.
I even managed to find a cart!
Bonus!
What I didn't know was which Cricut was on sale.
There were three different ones and not a sale paper in sight.
So, I did what any unseasoned Black Friday Shopper would do.
I stuck them all in my cart.
I'll work it out at the register I thought.
And then they spotted me.
Three ladies with an eagle eye on the contents of my cart.
Oh no, I thought.
Here it comes.
I am going to have to duke it out over a Cricut.
"Don't get that here! Its on sale for less at Walmart!" screamed one.
"Yes, I have the paper right here" said the other as she pulled out her well read bundle of sale ads.
"Um, Thanks" I said, "But do you think they'll have any left? I mean doesn't Walmart open at like 4am or something?"
"Well, we were just there and no one really knew what they were so I'm sure you can still get it there." Said the third.
"Oh Wow, thanks" I said.
Totally not intending to even go to Walmart.
But did the ladies let me be?
Did they just continue on with their shopping and forget about the non sale items in my cart?
Oh no.
They made me take it out of my cart.
Seriously, I'm not even kidding.
But since I was already in Michael's I did what any person lacking the thrift gene would do.
I shopped.
I bought all kinds of garbage I didn't need and that wasn't on sale.
On Black Friday the biggest sale day of the year, I purchased non sale items.
In my admittedly weak defense, I did get 3 cricut cartridges (for the Cricut I didn't have) at 60% off !
I know.
I suck.
Some of you ladies can go to the grocery store and leave with the store owing you money.
Or you can feed your family of 15 for $7 a month.
I'm in awe of you.
But can I tell you that I want you to keep your stories of your amazing talent to yourself?
I don't want to hear about it anymore.
Because every time I try to save money, I end up spending a lot more to do it.
For me to save money, I need to just stay home and stay off the computer.
As I drove to Walmart, I wondered what my amazing talent was.
I mean everyone has one, don't they?
And clearly, thrifty shopping wasn't one of mine.
I'll admit I was getting myself into a funk over my lack of the thrift gene.
After I purchased my Cricut for $65 off (thank-you very much) at Walmart I received another call from my obviously thrifty and experienced Black Friday Shopping friend.
"You have to come to Playmobil right now. For the next 30 minutes you can get 35% off your purchases!"
And then a smile broke out on my face.
It suddenly hit me what my amazing talent was.
My talent is spending a lot of money in an surprisingly short amount of time.
I can get a lot of shopping done in the smallest amount of time.
I get in and I get out.
Quickly and efficiently, if a little expensively at times.
Playmobil didn't know what hit them!
Hey, everyone has a talent.
Hopefully Big Daddy will learn to appreciate mine.
Happy Shopping!