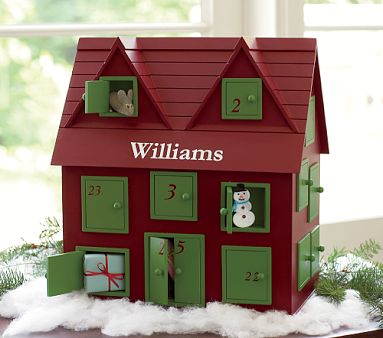 One of the things that makes me most excited about having my own family is the ability to create or play out some of my childhood holiday fantasies. Some are ones that I dreamed in my head and some are ones I saw played out in other friend's homes over the holidays.
I know the holidays can be depressing for those of us who came from less than idyllic childhoods. But you don't have to be stuck in your past. You can create your present and future childhood traditions. That is what I like to do and its surprisingly easy. There is no Family Tradition patrol who is going to come over to your house and call you out. Just decide what your tradition is going to be and POOF—you have a family tradition!
If you are blessed to have little ones it is especially easy because they pretty much believe everything you say. (I just love that!) So, when they ask, "What is this Mom?" All you have to do is say, "This is a Christmas tradition in our home." Who knew it was so easy to make your dreams and fantasies come true?
As Christians we celebrate CHRISTmas. No Happy Holidays here, sorry.

I've been through too much political correctness with my blended family to last me a lifetime and now I'm (finally) embracing CHRISTmas with my husband and children.
Inspired by one of our favorite people, The Sneaker Teacher, or Kiki as our boys used to call her, I am officially announcing our Advent House tradition effective December 1, 2009. If you don't have one, feel free to make ours your own. We purchased the above Advent House several years ago from Pottery Barn Kids and I'm embarrassed to say have never used it, until now!
Here is what I've included in some of our windows and doors:
– Read T'was the night before Christmas
– Read Rudolph the Red nose reindeer
– Watch an animated Christmas movie together for Family Movie night
– Play a board game together
– Roast marshmallows together
– Go shopping together for others & donate the toys to charity
– Decorate our Christmas tree
– Take a family portrait
-Invite friends to join us at the Church Christmas party
– Make ornaments for the tree
– Set up the nativity set
– Decorate the yard with Christmas lights together
– Watch an animated video about the birth of Jesus
– Family Game night—everyone picks a game!
– Make cookies together
– (Candy Canes)
– Make S'mores
– Buy or make a birthday cake for Jesus
Do you have any ideas for other activities I can add to our Advent House?